NEWSLETTER
17.03.2009 BULGARIAN PROPERTIES SEMINAR: THE BEST PROPERTY BARGAINS IN BULGARIA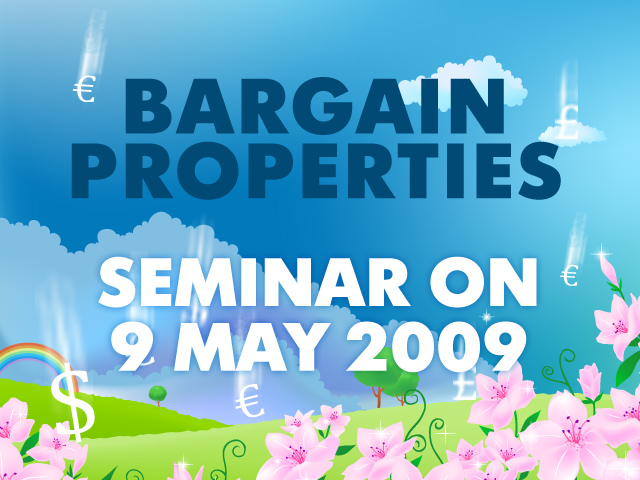 PRICES ARE FALLING. SOON YOU WILL HAVE THE OPPORTUNITY TO BUY YOUR DREAM PROPERTY AT AN UNBELIEVABLE PRICE!
The global trend of property price decrease which we have been witnessing in the last few months did not bypass Bulgaria. The result is that very attractive offers at unbelievably low prices started appearing on the market.
BULGARIAN PROPERTIES organize a seminar at which the company will present its best offers from around the country. The event will take place on
Saturday, May 9th 2009 in the ski resort of Bansko
, in the luxury holiday development
Belvedere Holiday Club
.
Only at the seminar will we present for the first time extremely lucrative offers which have not been yet presented to potential buyers as we will offer
special discounts
to those present at the seminar.
The participants in the seminar will also be given the opportunity to join the
Bulgarian Properties Club
and to
become a Special Client
. This will allow them to receive additional discounts, special servicing as well as access to special offers limited only to Club members.
The seminar will be conducted personally by the Executive Director of BULGARIAN PROPERTIES Mihail Chobanov. Also present at the seminar will be the company's operations managers Polina Stoykova and Victor Vucheliyski, as well as the leading regional managers and brokers from all our offices around the country. We have also invited lawyers, accountants, mortgage and insurance specialists. You will be given the opportunity to meet the top experts in the real estate field in Bulgaria and to ask them your questions personally.
Mix business with pleasure! Use this wonderful opportunity to receive information from the source, to view very attractive property offers and to enjoy the wonderful spring in the best winter resort in Eastern Europe. We have also prepared a special entertainment program with dinner and a party and have organized a picnic for all participants on May 10th, Sunday.
All those who attend the seminar will be offered very low prices for their stay at the
Belvedere Holiday Club
, meals at the development's elegant restaurant, free use of all amenities in the development, and transportation from and to Sofia Airport.
---
Copyright: 2009 Bulgarian Properties Ltd. All rights reserved. For further information or advice please contact us on tel: +359 2 9 11 50 or e-mail: info@bulgarianproperties.com. The use of this article by third parties is allowed only with proper quotations of the source www.BulgarianProperties.com and the Author of the article. The data in this material has been collected by the Author and Bulgarian Properties Ltd. and is presented for information purposes only. We have made every effort to ensure the accuracy of the data. However, Bulgarian Properties Ltd. cannot be held responsible for loss or damage as a result of decisions made based on this article.
© Bulgarian Properties Ltd. 2009.