NEWSLETTER
03.09.2010 BULGARIAN PROPERTIES Launch A Website of a New Generation!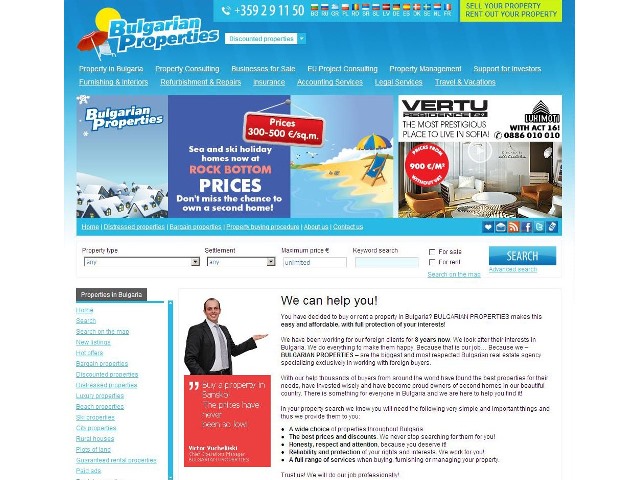 Dear friends,
We are glad to present to you our new website
www.BulgarianProperties.com
, which we launched on September 1st 2010.
Being a leader in the field of internet marketing,
BULGARIAN PROPERTIES now sets the start of a new stage of the development of the Bulgarian property market in the internet
with this new website. It contains full and detailed presentation of all the properties and gives comprehensive information to all our clients.
Together with the already familiar features like
property search as per different criteria
, e-services for
free weekly newsletters
and
customized property alerts
, with the new BULGARIAN PROPERTIES website
you will also have the chance to use a number of new features
:
• Detailed descriptions of the properties, photos, plans, features of the area in which the property is located and possibility to download an info pack for each property. We know that the most important thing for our clients is the detailed information about the properties. Each offer on our site has as much information as possible, with at least 10 photos; by clicking on the Info Pack link one can download a brochure in pdf format. Most of our offers also have video clips, as well as floor plans.
•
Many more video clips of properties and developments around the country
. You can make a virtual tour of the properties sitting comfortably in front of your computer.
•
A map with the property's location
plus the locations of the other properties for sale and rent in that area, based on Google's popular map platform Google Maps. This is a very interesting and interactive new feature which will help you find properties in a city, quarter or street of your choice. You will be able to see all our active property listings for sale and rent in that area, as well as the interesting sights there and more useful information about the area.
•
Very detailed property search page
with various criteria. We can sincerely say that you will not find such a detailed property search in any other Bulgarian real estate website!
• Subscription for notification of any change in the prices of properties selected by you – a new service of BULGARIAN PROPERTIES! If you like a specific property but its price seems high to you just register to receive an e-mail if its price is reduced. There is no limitation in the number of properties whose price you want to follow and we will send you an e-mail only if the price is reduced.
•
Direct contact with our sales agents
– apart from the traditional phone or e-mail you can easily talk to us on Skype and ICQ. All contact details of
our managers
and agents are on the website and we welcome all questions and comments. You can also write to us on
Facebook
and
Twitter
.
•
RSS feeds for receiving new property ads, news and market analyses as per parameters set by you
. RSS feeds are a very popular method of receiving new information from sites we find useful. That is why we set up feeds on the BULGARIAN PROPERTIES site as per various criteria – different properties and also articles, analyses, news and other interesting materials. You can subscribe both for our general feed and only for those things you are interested in. Right after we publish new information on the topic you have selected you will receive it in your favorite RSS reader.
• Social bookmark icons – you can share the properties and articles you find interesting in the social networks you like. That is what modern technologies are for – so we can exchange information and give our opinions fast and easy!
• BULGARIAN PROPERTIES is already in
Facebook
and
Twitter
– you can become our friend and receive the latest information from us, the newest property offers and pleasant surprises from our company.
• Creating a personal wish-list with the properties you find interesting. This way you will not forget or search again for the properties you like and you will save them fast and easy to your wish-list.
• Presentation of all
our managers
and
sales agents
whom you can contact directly and ask any question.
• and many more new features which we will continue to develop and add to.
We hope that you will like our new outlook and it will make the purchase, rent or sale of a property in Bulgaria, as well as the search for useful information much more pleasant and easier. Our team around the country will continue to find and offer the best properties at bargain prices and all experts at BULGARIAN PROPERTIES will continue to keep you informed on all property issues.
Here is some more information about BULGARIAN PROPERTIES' web achievements:
BULGARIAN PROPERTIES is a Bulgarian real estate agency founded in 2002. Since its founding we have become the absolute leader in property sales in Bulgaria both to Bulgarian and foreign clients.
Our website was created in 2002 and today it is the most popular property site in Bulgaria with an average of over 6,000 unique visits per day! In the last few years our site has been visited by over 1 million visitors per year and in 2010 we expect a 50% growth compared to 2009.
In the 8-year history of our site we changed its design 3 times to answer the ever-changing needs of the internet users and to keep abreast with the latest web technology trends. We have three main language versions of the site –
English
,
Russian
and
Bulgarian
, as we also have versions in Polish, Romanian, Slovak, etc.
This way we get to great many potential clients from around the world.
Contact us by phone +359 2 9 11 50,
e-mail
or
SKYPE
.
---
Copyright: 2010 Bulgarian Properties Ltd. All rights reserved. For further information or advice please contact us on tel: +359 2 9 11 50 or e-mail: info@bulgarianproperties.com. The use of this article by third parties is allowed only with proper quotations of the source www.BulgarianProperties.com and the Author of the article. The data in this material has been collected by the Author and Bulgarian Properties Ltd. and is presented for information purposes only. We have made every effort to ensure the accuracy of the data. However, Bulgarian Properties Ltd. cannot be held responsible for loss or damage as a result of decisions made based on this article.
© Bulgarian Properties Ltd. 2010.