NEWSLETTER
07.10.2008 Special Discounts for BULGARIAN PROPERTIES Clients during BalPEx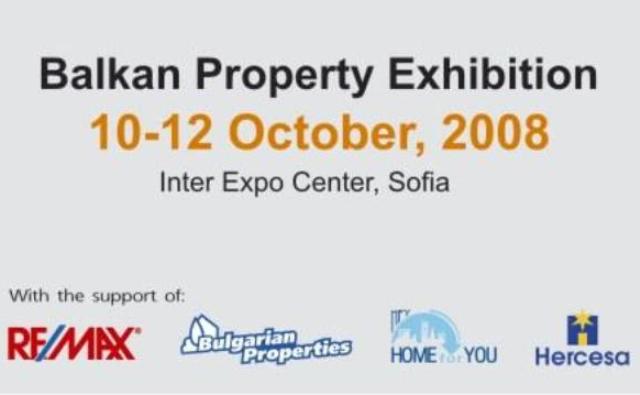 Once again autumn is here and it is time for the fall edition of the Balkan Property Exhibition (BalPEx) which is to be held from October 10th until October 12th at the Inter Expo Center in Bulgaria's capital Sofia. The autumn BalPEx traditionally stresses on residential and holiday property offers oriented both to end-clients and corporate clients. BULGARIAN PROPERTIES is a silver sponsor of the event and will attract the visitors with a number of interesting offers around Bulgaria.
BalPEx offers a perfect event to choose among the latest products and services in the real estate industry: sales or rental of houses and summer villas, apartments and apartment complexes, hotels and hotel complexes, business properties including offices and commercial spaces, agricultural land; private properties; financial, insurance, planning and design services; property management, brokerage, consultancy and business development.
BULGARIAN PROPERTIES will make
special discounts
to all clients who reserve a property during BalPEx. This can be arranged either at the exhibition, or in any of our offices around the country.
The portfolio of BULGARIAN PROPERTIES will include hot locations like
Sofia
,
Varna
,
Bourgas
,
Plovdiv
,
Bansko
,
Lozenets
,
Sveti Vlas
,
Sunny Beach
,
Aheloy
and many others.
Those looking for a property in the capital
Sofia
will be able to receive detailed information and alluring offers about three of the company's leading projects:
Lyulin Suites
,
Antim Suites
and
Venus
.
Lyulin Suites
is a new residential development with modern architecture in a nice environment offering coziness and tranquility;
Venus
is a modern residential complex designed to reign supreme over a private, yet culturally alive and strategic location in a quiet street and
Antim Suites
is an elite boutique complex enjoying an envious location in the very heart of Sofia.
In the two of the other biggest cities in Bulgaria -
Bourgas
and
Varna
BULGARIAN PROPERTIES will offer residential and business properties at lucrative prices with great locations.
If looking for a
seaside holiday property
you will not be disappointed either. Some of the company's leading complexes will try to find a way to the visitors' hearts. BULGARIAN PROPERTIES will attract holiday-home buyers with three developments in the elite Black Sea resort of
Sveti Vlas
which boasts a brand new luxury marina and beautiful nature. The world famous seaside resort of
Sunny Beach
will not be left behind as it will be represented with the beautiful project
Sunset Kosharitsa
located where the mountain meets the sea.
Those who love winter sports will be able to find their dream property in two of Bansko's jewels that will be presented at the property exhibition. Both
Belvedere Holiday Club
and
Godlevo Resort
have locations to boast with and are close to Ian Woosnam's 18 hole state-of-the-art golf course.
BalPEx usually takes place along with local conference BalREc - Bulgaria which will be held on October 9th 2008 at the Sheraton Hotel Sofia. The topic of the conference will be State and Perspectives before the Real Estate Market in Bulgaria: 2008 – 2010. The forum will focus on the local real estate market and will look into the new perspectives and development trends in response to the altered investment climate in Bulgaria.
BalPEx is always a place to learn about the latest trends and developments on the real estate market, to receive professional advice and last, but not least, to find your dream property at a great price.
View our hottest offers