MAJOR LOCATIONS IN BULGARIA
ELENA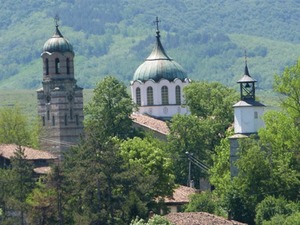 Elena is a small town situated in the Elena Valley, 300 metres above the sea level in the heart of the Central Balkan Mountains. It is situated just 40 km south of the medieval capital of Bulgaria – Veliko Tarnovo and 280 km northeast of Sofia.
HISTORY AND ARCHITECTURE
Elena is an old settlement founded before the 15th century. During the 18th and 19th century it established itself as a centre of crafts, trade and education. There are several architectural ensembles preserved dating back to the Bulgarian National Revival and comprising about 130 old houses. Wall-to-wall construction forms interesting street silhouettes. The houses have stone basements with white-washed or wooden walls of the upper floor with protruding bays above.
The town's sights include an old first class school, founded in 1848 and named Daskalolivnitsa, where future teachers were educated (and where nowadays a museum exhibition is arranged), the St Nicholas Church of the 16th century, with valuable mural paintings and icons, and the three-naved Church of the Assumption, built entirely of stone (1837). The clock tower that features an antique clock mechanism (1812) rises at the town's highest point.
SIGHTSEEING
Preserved houses and compounds of different construction periods and above all from the National Revival Period can be seen in the town. Daskalovnitsata (Elena teacher – training school) the first Bulgarian pedagogical school, was established in the autumn of 1843 by Ivan Momchilov.
The Church of the Assumption of the Holly Virgin (1837), built on the site of an old chapel. The Monastery was erected by Master Miho and is a striking proof of the great skill and structural boldness of its builder.
The St. Nikola Church is the oldest one in town.
Kambourov Inn - hosts an Ethnographic exhibition nowadays.
Popinkolovs House, from the early 19th century, is one of the most typical houses of Elena. It is used as a scholarly and training base of Kliment Ohridski University of Sofia.
The House Museum of Ilarion Makariopolski – it is of great historical and architectural value.
The Museum of the National Revival and the National Liberation Struggles is of great historical significance.
The resort offers great opportunities for mountain tourism, hunting, fishing and sun bathing.
Numerous small hotels offer perfect service for the pleasant stay of all tourists willing to have a holiday amidst virgin nature and crystal clear air.
View our property offers for sale and rent in/near Elena