MAJOR LOCATIONS IN BULGARIA
DRYANOVO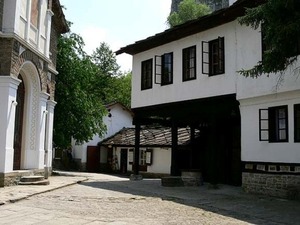 Dryanovo is situated 270 metres above the sea level, at the foothills of the Central Balkan Mountains. It is amphitheatrically built on both sides of Dryanovska River. The town is located 21 km north west of Gabrovo and 220 km from the capital city Sofia. It is famous for its healthy climate and the unique nature and fresh mountain air.
Like all Balkan mountain settlements, Dryanovo reached its bloom at the time of the Bulgarian National Revival. In 1883 it was proclaimed a town. Masons and woodcarvers spread the fame of the town throughout Bulgaria and far away in the Ottoman Empire.
The oldest traces of life on Balkan Peninsula were discovered in the area, proofs of human presence from the Paleolithic were descovered in Bacho Kiro cave near Dryanovo monastery, situated in the Andaka river valley. Numerous relics of ancient villages, fortresses, pillars with inscriptions and ornaments from Thracian and Roman times (Boruna and Diskoduratera fortresses) were discovered there.
Dryanovo is sometimes referred to as "a town of centenarians" for the healthy climatic conditions prolonging people's life. The town is also known as the birthplace of the renowned architect Kolyu Ficheto.
SIGHTSEEING
Very interesting landmark is Kolyo Ficheto Museum, which presents the lifework and the collections of one of the most prominent master builders of the National revival period. Among the works of the builder are the three-nave "St. Nicholas" Church and the old-time bridge of Dryanovo. Another worth to be visited landmark is Drayanovska Charshiya. It represents a marketplace, where a variety of revival period houses with workshops are situated. The Holy Trinity Church,, the clock tower and the Art Gallery are preserved in the complex.
SURROUNDING AREAS
Dryanovo Monastery "St. Archangel Mihail" is situated 4 km from Dryanovo and 32 km from Veliko Tarnovo, in the gorge of Dryanovska River. It was founded in the 12th century and represents a spiritual bastion of the Bulgarians long ago. An exhibition "Dryanovo Monastery – a Centre of Bulgarian Spirit" has been arranged in a separate building, next to the Monastery entrance.
Bacho Kiro Cave is located west of the Monastery, just 5 min by walk. Back in the ages the cave was cut by the waters of t he river. The cave is a tempting labyrinth with a total length of the galleries of about 2 400 m. Bones of cave bear and an ancient man, pottery and tools of labour were found in the cave.
Dryanovo Eco Trail passes from there as well.
Source: www.VisitBulgaria.net
View all our property offers for sale and rent in the area of Dryanovo