MAJOR LOCATIONS IN BULGARIA
BELOGRADCHIK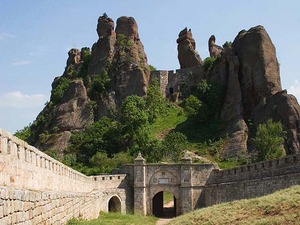 Belogradchick is a town situated at the southwestern foot of Venetsa Ridge in the western foothills of the Balkan mountain range, next to the Belogradchik ridge. It is 182 km northwest of Sofia and 52 km southwest of the regional centre Vidin.
Belogradchik is situated in extremely picturesque region with unique rock formations and natural sights. Thus it has become a famous tourism centre with excellent resources for trips, cave and bicycle tourism, mountain climbing, hunting, fishing or even astronomic observation.
Belogradchick emerged during the middle ages with the construction of a fortress amidst the rocks, which determined the development of the settlement. The town is named after the white monastery of the fortress.
HISTORY
This is an old settlement, originated as early as 1st century when the Romans built a fortress among the rocks. After that the fortress and the settlement were ruined many times and built again by Byzantines, Bulgarians, Turks.
A register from 1454 testifies about the Bulgarian town here. In 1837 during the reign of the Sultan Mahmud II the fortress was finished in its present-day outlook and the non-paid work of the Bulgarian population. In the period of Ottoman Rule Belogradchik was a small agrarian-craftsman town. A peasant uprising began here in 1850, but it was cruelly crushed and the last defenders of the fortress slaughtered.
The name of the town comes from "beliya gradezh" (the white building) of the fortress - a natural combination of human and natural work. After the Liberation (1878) Belogradchik gradually became a tourist centre which attracts thousands of visitors from the country and abroad.
WHERE TO GO
Belogrdchick Rocks - unique rock formation, situated nearby the town of Belogradchik, 52 kilometres in south - west of the town of Vidin.
The cultural traditions of the town are popular in the country. Guests are attracted by the painting expositions, sculptures, wood carving and international festivals, national songs and dances and modern ballet.
Belogradchik fortress (Kaleto), is one of the best preserved fortresses in Bulgaria.
Magoura cave (Rabisha cave) is situated in the western foothills of the Balkan Mountain Range in a lonely hill close to the Rabisha village.
There are perfect conditions for the production, conservation and aging of sparkling wines (suitable humidity and permanent temperature of 12°C). Wine tasting is also organized in the cave.
Rabisha Lake is just next to the entrance of the Magoura cave, at the foot of Rabishka mound. The lake is the biggest inland lake in Bulgaria. It has no exit and is fed by karst spring. The lake is a prefect site for surfing, swimming, fishing and hunting.
Main source and photos: VisitBulgaria.NET
For more information please contact our BULGARIAN PROPERTIES office in Vidin:
2, Dunavska Str.,
Vidin 3700, Bulgaria
Tel: +359 94 600 348
Mobile: +359 885 919 003
View all our properties for sale and rent in Belogradchik and the area