The World's Best Party Beaches Revealed: Spain, Thailand and Bulgaria
https://www.novinite.com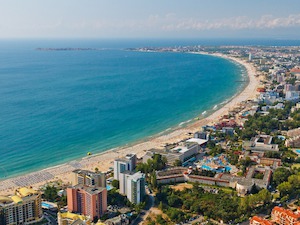 The world's wildest party beaches have been uncovered after an extensive survey of the most exciting stretches of sand on the planet.

This list features the seaside destinations to be raving to top-tier DJs and get loose on in the full-moon parties. The nine party destinations features all the usual suspects of Greece, Thailand and Spain and a couple of wild cards - like Bulgaria's rave-scene Riviera.

Compiling the research was German research agency Beach-Inspector.com, which enrolled volunteer beach inspectors to explore these coastal party meccas. A tough job, but someone has to do it.

The inspectors were enlisted to sample beaches for their quality of water, scenic surroundings and- of course – the nightlife on offer.

Here are their top picks:

Playa d' en Bossa, Ibiza
The island of Ibiza is famous as the party-starter's party destination. It has become a second home to some of the world's most famous dance DJs.

Playa d'en Bossa is the crest of the wave when it comes to open-air party locations like Bora Bora Bora and Hï Ibiza.

It might not be the most romantic of beaches but the inspectors rated the beach for its cleanliness, safety and a solid 9/10 on flirtatiousness of the partygoers.

Golden Sands Central Beach, Bulgaria
Beach-Inspector has tipped off this massive artificial resort as Europe's next party destination and the "tourist magnet of the Balkans" for those in "search of fast and cheap fun."

Though it's a fairly new addition to the summer party circuit the Bulgarian beach is a big mix of nationalities. The inspectors found most visitors were from Germany, Britain and Russia.

Though speaking many languages, the tourists are overwhelmingly young. With an average age range of 14-35, The resorts are full of young students and high-school graduates looking to let off steam.

Haad Yuan Beach, Koh Phangan, Thailand
A destination for unforgettable parties Haad Yuan Beach is now infamous for its Full Moon festivals. Once a month the Koh Phangan holds an event that has become a right of passage for party animals.

Revellers dance from sundown to sunrise in the open air. This is the marathon of party beaches and requires some serious dancing stamina. Through the primal atmosphere and scantily dressed ravers the event has become known more colloquially as the "party of many moons."

For visitors looking for a different kind of wildlife, beach inspectors note the as a "diver's paradise". It scores an almost perfect 9/10 for underwater beauty, though diving equipment is not for rent on site.

Beach-inspector
You might be wandering why are there no Kiwi beaches on the list? Surely tremors from the legendary Mt Maunganui, and rave in the Bay of Plenty must be felt halfway across the world.

Kai Michael Schäfer the website's founder and beach lover, was sorry to say his inspectors had "unfortunately not yet recorded and tested a beach in NZ." The Berlin-based company "not yet arrived at the other end of the world," but he was sure it was only a matter of time.

Those party spots on the East Coromandel are a secret for now.

If you were wondering how your local party competes with and to put your coastline on the map, Beach-Inspector.com are looking for volunteers.

The website are putting a call out for new volunteers and new destinations to join the 1,500 beaches listed. Find out more here: beach-inspector.com

The world's nine best party beaches
Barasti Beach, Dubai
Playa de Palma, Majorca
Playa d'en Bossa, Ibiza
Haad Yuan Beach, Thailand
Playa de Magaluf, Majorca
Haad Rin Beach, Thailand
Lo Dalam Beach, Thailand
Golden Sands Central Beach, Bulgaria
Kavos Beach, Greece

View our attractive properties in Sunny Beach and the neighbouring resorts

View our attractive properties in beach resorts in Bulgaria

read more articles



A very professional company. Sergey was very knowledgeable and helpful throughout the sale. ...

I am very pleased with the services provided by Bulgarian Properties. What I liked most was that ...

Hello, Bulgarian Properties the information and advice which I have received from your ...
Terms of Use | Privacy Policy | Cookie Policy

All photos, texts, video clips, charts and banners on our website are property of our company or of our partners and are protected by the Copyright Act of the Republic of Bulgaria. Any unauthorized use of photos, texts, videos and other materials from our website by third parties will be subject to immediate claim on the part of the copyright owners. The information on our website is with information and advertising purposes. Alhtough we have made all efforts to provide accurate information, there may be some mistakes. For full and correct information is considered only the information received at the offices of Bulgarian Properties Ltd.