MAJOR LOCATIONS IN BULGARIA
SOFIA
SOFIA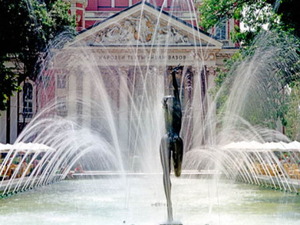 Sell or rent out your property in Sofia with us

Sofia, the capital of Bulgaria, is the biggest city in the country, the most developed and also the busiest. With a population of over 1.5 million people, together with thousands of businesses, foreign Embassies, branches of international companies and organizations, corporate HQs and public administration buildings, Sofia has the most developed and dynamic property market in Bulgaria.

This is also valid for the rental market, where both high demand and high price levels are observed. Currently the highest rental income and profit for residential properties can be found in Sofia but, understandably, this is also where you will find the highest prices!

Properties in Sofia also feature the highest rates of price growth. Over the last two years, the average price of apartments in the centre of the city has increased by 50 to 60% to today's level of 1000 to 1300 Euro per square meter of floor area, depending upon the location and the condition of the apartment. This price growth is expected to continue with moderate increases of 15 to 20% per year for the next few years, until prices reach the levels for similar properties in other Eastern European capital cities such as: Budapest (Hungary), Prague (Czech Republic) and Warsaw (Poland), where the current price per square meter is 1800 to 2000 Euro.

For customers planning to invest in residential property, we would recommend purchasing either studios, 1-bedroom or 2-bedroom apartments in the following areas …


the centre of Sofia, around the Sheraton Hotel, the Parliament buildings, Sofia University, Doctor's Garden, NDK (National Palace of Culture), Vitosha Boulevard (main shopping area), Graf Ignatiev Street, Patriarch Evtimii Boulevard and around the Foreign Embassies.

the better residential areas of the city such as: Lozenets, Ivan Vazov, Strelbishte, Lagera, Iztok, Geo Milev, and Pirogov.

the rapidly developing business districts including: Bulgaria Boulevard, Buxton and Todor Kableshkov Boulevard.


These areas are all ideal rental locations for senior executives and managers working for businesses and organizations in the capital, as well as regular business and leisure travelers visiting the city. A key point to note, though, is that, as in every busy city, there is a shortage of parking space and, while there are many secure parking areas with a monthly fee of about 40 to 50 Euro, we advise that, if possible, it is always better to purchase a garage or designated parking space with the apartment.

In terms of revenue, there are guaranteed rental options available for some apartments with a yield of around 7% to 8% per annum. Otherwise, the gross monthly rental income for a fully furnished and fitted 1-bedroom apartment ranges from 300 to 500 Euro for long term lets and 600 to 800 Euro if run as a serviced apartment, with short term rentals of 1 to 15 days.

Independent buyers or those using the services of other real estate agents should be aware that the rental market in Sofia is extremely delicate in terms of location and property specifications. The areas that we have recommended above, for instance, do have both good and not-so-good parts and this sort of information is an essential pre-requisite to purchase. To ensure a successful investment in Sofia, foreign buyers must have reliable local partners such as BulgarianProperties.com and PropertyManagement.BG, who have excellent knowledge and extensive experience of both the property and rental markets. As an example, we can source and recommend older city centre apartments which require renovation but represent an excellent investment because they are lower priced and, in real terms, much better value for money. We also work with a large team of building and furnishing professionals who will refurbish and furnish any Sofia apartment to the required standard for rental in a matter of weeks so that the buyer will end up an with excellent quality apartment for a reasonable price.

The procedures for buying an apartment in Sofia depend upon the age and type of the property. For new, off-plan apartments, there will be a defined purchase plan based upon payment of a reservation deposit, usually 5%, followed by stage payments during the construction cycle, which may be a matter of months or up to two years in the future. Buying off-plan enables the purchase of a property for tomorrow at today's prices and the reason that this can be such a good investment is that the price of the property is locked at the time of reservation, which means that, in a rising market, significant capital growth can be achieved before the construction is even completed.

Established or re-sale properties, on the other hand, are normally sold individually, rather than as part of an ongoing development and can be reserved by paying a deposit of 10% of the purchase price, which will remove the property from the market. A period of about 30 days then follows, during which time we will carry out all the necessary checks and searches on the title of the property to make sure that the ownership is clear. When the checks and searches are complete, the balance of the purchase price will be due for payment.

If the apartment includes a proportional area of the land upon which the block is built, or land in the form of a yard or garden, the buyer will have to set up a Bulgarian registered company in order to complete the purchase. This is a simple process and our legal team will do this. Registration of a business takes about 20 to 24 days to complete. The cost is 600 Euro and the sum of 5000 Bulgarian Leva (approx 2600 Euro) has to be deposited as opening share capital but this can be used as part of the purchase cost as soon as the business is set up.

In practice, any Sofia apartment can be secured immediately upon payment of the relevant reservation deposit. We will reserve the property and our legal team will commence the necessary checks and searches, together with the business registration procedures, if applicable. Provided that ownership and title is clear and that there are no problems with the purchase from the side of the vendor, the reservation deposit is non-refundable if the buyer decides to pull out of the purchase for some reason.

For the purchase of apartments in Sofia, we charge an Agency commission of 3% of the purchase price to cover the costs of the services that we will provide, including: title deed checks, research of the property history, legal services, administration and correspondence. For buyers who are not able to come to Bulgaria for completion of the purchase and transfer of ownership, we can complete the deal through a Power of Attorney vested with one of our lawyers.

Finally, please note that for all properties purchased in Bulgaria, including apartments in Sofia, there are additional costs to pay for State taxes, local taxes and Notary fees. These additional costs amount to approximately 3% of the property purchase price and are usually payable at the time of completion of the purchase

Questions and Answers:

Q: Is there a management company responsible for a block of apartments? For example, if the roof of the building has problems, who fixes it and who pays?

A: There is no such standard practice in Bulgaria. For new-build or off-plan developments, there will normally be an annual service charge (usually between 7 to 9 Euro per square metre) to cover the costs of maintenance and upkeep of the shared or communal parts of the building, such as: gardens, elevators, entrances, stairs and corridors. For established or re-sale apartments within an apartment block, there is a form of residents committee and a block manager. The people who live in the block regularly gather together to take important decisions or to collect money for repairs or refurbishment of the communal parts of the building.

Q: Are there any property related government taxes (similar to UK council tax) payable each year?

A: Yes, every real estate property in Bulgaria is subject to annual taxation. The rate of tax is calculated according to special ratios and the amount payable depends on a range of factors such as: the location and the type of building, the date of construction and any improvements that have been made. For a 1-bedroom apartment in the centre of Sofia the annual tax is about 80 to 100 Euro.

Q: Is there any risk that government policy in the future regarding foreign property investors could change such that my ownership of the apartment could be questioned?

A: Absolutely not! Such problems have been reported with properties in other countries, but Bulgaria has strong European style laws and property ownership is an extremely powerful legal concept. Furthermore, as we are now joining the EU, more and more of our laws are changing to harmonize with European legislation.

The purchase and rental of property in Sofia offers an excellent investment opportunity. However, this is a detailed and quite specific undertaking for which expert, professional advice and assistance is essential. This is why we recommend that, as your first step, you contact us for more details of the properties for sale in Sofia which would be best suited to your investment plans.

Sell or rent out your property in Sofia with us

View properties for sale in Sofia

Search for related articles in our article section

Request more information

<< read more

Fiona and I have bought a wonderful house near Vidin. Bulgaria was more than we could ever have ...

I purchased a property in Bansko, the service was excellent. The process was completely stress free ...

Tsvetan has been very helpful with his prompt response and excellent communication. I can confess he ...
Terms of Use | Privacy Policy | Cookie Policy

All photos, texts, video clips, charts and banners on our website are property of our company or of our partners and are protected by the Copyright Act of the Republic of Bulgaria. Any unauthorized use of photos, texts, videos and other materials from our website by third parties will be subject to immediate claim on the part of the copyright owners. The information on our website is with information and advertising purposes. Alhtough we have made all efforts to provide accurate information, there may be some mistakes. For full and correct information is considered only the information received at the offices of Bulgarian Properties Ltd.