MAJOR LOCATIONS IN BULGARIA
PRAVETS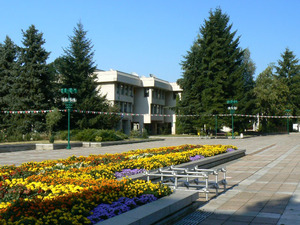 Pravets is a small town situated 11 km east of Botevgrad. It is situated just 50 km Norteast of Sofia, and is easy accessible along the Hemus highway. Sofia Airport is just 30 minutes away by car.
Pravets has a population of about 4,500 people. Mountains surround it, which allows for a mild climate with rare winds. In the outskirts there is a small lake used for fishing and recreation. Most Bulgarians associate the town with its (now closed) computer manufacturing plant and with the birthplace of Bulgaria's last communist president, Todor Zhivkov.The first microprocessor factory in Bulgaria was situated in Pravets. These computers, which were also the first in Bulgaria, were named Pravets-82 and had yellow and black keyboards.
The town is surrounded by the beautiful hills and forests of the picturesque Stara Planina Mountain. Close to the town there is a large artificial lake. It has always been the emblem of the town and provides ample opportunities for water sports and fishing.
Today, the town is famous for its City University campus and two prestigious high schools. The first one is a language high school by the name of Aleko Konstantinov. It prepares many students who continue their undergraduate education in Bulgaria, USA, Germany, and France. The second high school is one of two technical schools, which prepares students for the Technical University in Sofia, Bulgaria. It allows for direct admission to the University to its top students. The Bulgarian branch of City University of Seattle (based in Bellevue, Washington, U.S.) is located in Pravets, where it offers an accredited BSBA degree to Bulgarian students. During the school year, the town is filled with students from different towns and cities, which contributes to the energetic atmosphere of Pravets.
Pravets is popular also as forthcoming Country&Golf area with its nice areas and villages - Shumnene, Ravnishte, Dragoitsa etc.
CLIMATE
Pravets is 420 m above the sea level. Winters are usually mild and summers – pleasant, ideal for a relaxing holiday, away from the big city, all year round.
HISTORY
Pravets is the birthplace of Todor Zhivkov - ex. Prime Minister of the National Republic of Bulgaria.
The Pravets region is famous for its traditional architecture and culture heritage. The St. Theodor Tiron Monastery and the Etropole Monastery – Holy Trinity are located about 3-10 km away from the town, following the road to Etropole.
The popular Glozhene Monastery is also just 45 km away.