MAJOR LOCATIONS IN BULGARIA
PLOVDIV
PLOVDIV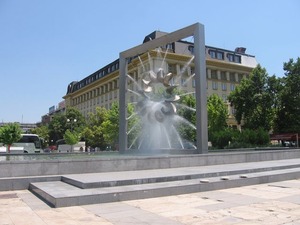 History

Plovdiv is one of the oldest cities not only in Bulgaria but also in Europe. It is a contemporary of Troy. Homer, Herodotus and other ancient authors describe the lifestyle, customs and traditions and rich culture of the Thracians, who were the oldest population on the Balkans.

While in Roman time the city was known under the names Trimontium, Ulpia, Flavia and Julia, the Slavs adopted the Thracian name Pulpudeva but modified it to Puldin and Ploudin, from where the present name Plovdiv came.

Atter the establishment of the First Bulgarian Kingdom Plovdiv turned out to be a border city of exceptional importance for the incessant fights between Byzantium and the young Bulgarian state.

Located on the main military route on the Balkan Peninsula - Via Militaris, during the Middle Ages Plovdiv turned to be one of the stops on the way of the crusaders of the first four crusades. In the middle of the 14th century the Turks invaded the Balkan Peninsula and made Constantinople capital of the Ottoman Empire. In 1364 they seized Plovdiv and in turn give the city a new name - Philibe.

The period of National Revival was the time of spiritual awakening. The Bulgarian middle-class grew in number, became economically stronger and began playing a key role in society. In the course of their trade relations with European countries and Russia, the people from this part of society, who were open to modern political and cultural influences, realized the enormous importance of education and science. In the first half of the 19th century, together with Istanbul; Thessaloniki and Edirne, Plovdiv became a major economic centre in the European part of Turkey.

In 1877 the Russo-Turkish War began. The Russians freed Plovdiv on January 16, 1878, The Treaty of San Stefano, signed on March 3,1878, founded the Principality of Bulgaria, which included all the lands with predominantly Bulgarian population. The cosmopolitan Plovdiv as the biggest, richest and busiest Bulgarian city, naturally, was declared capital of the new state and centre of the new Russian Temporary government.

The treaty was modified by the terms of the Treaty' of Berlin signed four months later. According to these terms Bulgaria was divided in three parts - Principality of Bulgaria with Sofia as a capital; vassal to the sultan Eastern Rumelia Province with Plovdiv as a capital; and Macedonia, which was returned outright to Turkey.

After the Union Plovdiv became and still is second in size and importance to the capital Sofia.

Geography and Population

Plovdiv is the centre of Plovdiv Region which covers an area of 6,000 sq. km, which is 5.4 percent of the territory of Bulgaria.

The city spreads over an area of 53 sq. km in the Thracian plain along the banks of the Maritza River. The favourable climate and geographica location contributed to the development of the city throughout all historical ages.

Urban Planning And Architecture

The architectural monuments from Antiquity and early Middle Ages create the unsurpassed atmosphere of Plovdiv.
The first signs of distinct Ottoman type urban planning can be traced to the middle of the 15th century when a mosque became the centre of the new city coordinate system. The mosque was built over the foundations of a medieval church, which in turn lay upon an earlier historic layer containing the northern arch of the Ancient Stadium.

The main shopping street began here and ran north as far as the bridge over the river Maritza. A new quarter was built on the northern bank of the river with stables and inns.

West of the shopping street on the south bank was the city administration, while to the east was the artisan's area, called "Kapana" (the trap).

Architecture in Plovdiv was influenced by the Secession style with its abundance of decorative elements from the beginning of the 20th century up to the thirties. The most typical buildings in this style are situated in the section starting from the Railway Station along presentday Ivan Vazov St. and the main street up to Dzumaya Square.

Cultural Heritage

At present there are over 200 registered architectural monuments of culture in Plovdiv, 30 of which of nation-wide importance. The numerous movable monuments of culture exceed the number of 300,000 and are kept in five museums on the territory of the city the Archaeological Ethnographic, Historical, Nature museums, and in the City Art Gallery.

Speaking of Plovdiv we must mention such world-famous sites as the Ancient Theatre of Philippopolis (2nd c. AD), the Roman Stadium (2nd c. AD), the splendid polychro¬me mosaics in residential houses and basilicas, the Nebettepe archaeological complex, the magnificent examples of National Revival-style architecture: the houses of Balabanov, Koyumdjioglu, Hadji Aleko, Mavrudi, Georgiadi, Nedkovich, Hindliyan, etc.

The Panagyurishte treasure from the end of the 4th century, 6.164 kg weight, comprises nine gold vessels with unique decoration, made Plovdiv well-known tar beyond the borders of the country.

Old Plovdiv was declared an architectural museum reserve because of the architectural features of the National Revival-style houses sited compactly on the territory of the Three Hills (Nebet Tepe, Jambaz Tepe and Taxim Tepe). Their impressive appearance, ornate internal decoration, cosiness and family spirit are perfect examples of the spirit of their time.

The old churches are an integral part of the Three Hills architectural ensemble. Most of them have preserved their appearance from mid-19th century - St. St. Constantine and Elena, St. Marina, St. Nedelya, St. Petka, the Cathedral church of the Holy Virgin (St. Bogoroditsa). There is also a Roman Catholic church ,,St. Ludwig", a Protestant church, and Armenian-Gregorian church, etc.

Two mosques have survived from the time of the Turkish invasion.

The spirit of Plovdiv gives rise to the creative power of its artists, writers and musicians. Well known in the country and abroad are cultural events like the International Chamber Music Festival which has been taking place in the Old Town for more than thirty five years; the Natio¬nal Autumn Exhibitions in the houses of the Old Town, also dating from over thirty years; the Golden Chest International Television Film Festival, organized for more than two decades together with the Bulgarian National Television; the Golden Rhyton Documentary Film Festival an over twenty-year-old initiative organized jointly with the National Film Centre; the Verdi Festival which draws the admirers of opera to the Ancient Theatre one of the most attractive places in the Old Town; the annual Easter and Christmas Musical Festivals; the International Folk Festival, which is one of the most exotic and popular cultural events at the end of the summer.

Some recent initiatives also arouse interest - the Scene on Crossroads International Theatre Festival; the Week of Modern Arts, which takes place inside Ihc historic and architectural monument Starinna Bath; Impressia Art Pair; the summer film panorama ,,Film Nights in Philippopolis"; the Festival of the Old Town.

Culture

Plovdiv is the city of artists. It is no mere chance that the first art exhibition was organized here in the middle of the 19th century. Since then the name of the city has been finked with the names of artists from the National Revival period –Dimttar Zograf, Zachari Zograf, Stanislav Dospevski, Ceorgi Danchov; from the period following the National Liberation - Ivan Murkvichka, Anton Mitov; the outstanding figures of contemporary Bulgarian art - Hristo Stanchev, Sirak Skitnik, David Perets, Tsanko Lavrenov, Zlatyu Boyadzhiev; the founders of the Plovdiv school of the sixties -- Yoan Leviev, Kolyo Vitkovski, Dimitar Kirov, Encho Pironkov, Hristn Stefanov. Today more than 500 artists work in the city on the hills. One of the first artists associations - the Association of the artists from South Bulgaria, was founded here in 1911. The small streets and courtyards of the Old Town create an inspiring atmosphere and provide natural exhibition sites. Over twenty private galleries are concerned with the fine arts market.

With its rich history and ancient cultural heritage, Plovdiv has become an attractive historical and cultural centre. There are over 7 000 beds in more than 50 hotels all over the region apart from the 5 000 beds offered by camping-sites, accommodation agencies and mountain guest houses.
The visitors can check in Plovdiv Novotel and Sankt Petersburg Park Hotel, as well as in the newly reconstructed Trimontium-Princess Hotel, Maritsa Hotel and Bulgaria Hotel.
In recent years more than 20 new hotels have been opened - Royal, Noviz, Metropole, Rodopes, etc.


GALLERIES
City Art Gallery - 15, Knyaz Alexander Batenberg Str., tel.: 032/624 221
Permanent Exhibition - 14 A, Saborna Str., tel.: 032/635 322
Permanent Icon Exhibition - 22, Saborna Str., tel.: 032/626 086
Tsanko Lavrenov Museum Exposition an Mexican Art Permanent Exhibition - 11, Artin Gidikov Str., tel.: 032/628 745
Zlatyu Boyadzhiev Permanent Exposition - 18, Saborna Str, teL: 032/635 308
Georgi Bojilov-Slona Permanent Exhibition - 1, Knyaz Tseretelev Str. Tel.: 032/621 474
Trakart Gallery
Philippopolis Art Gallery - 29, Saborna Str., tel.: 032/624 851
L'UNION Gallery - 5, Krivolak Str., tel.: 032/620 717
Dyakov Gallery - 17, Angel Bukureshtliev Str., tel : 032/271 068
Romfea Gallery - 83 Maritza Blvd., tel.: 032/950 608

MUSEUMS
Archeological Museum - 1, SaedinenieSq., tel.: 032/624 339,633 106
Ethnographic Museum - 2, D-r Stoyan Chomakov Str, tel.: 032/625 257
Historical Museum - 1 Saedinenie Sq., tel.: 032/269955
Hr. G. Danov House-Museum - 2, Mitropolit Paisii Str.( tel.: 032/629 405
Natural Science Museum - 34, Hr. C. Danov Str. tel.: 032/626 663,626 683
Balaban House - 57, D-r K. Stoilov Str, tel.: 032/627 082
Hindliyan House - 4, Artin Gidikov Str., tel.: 032/628 998
Nedkovich House - 3, Tsanko Lavrenov Sir., tel.: 032/626 216
Limartin Museum Exposition - 19, KnyazTseretelev Str. tel: 032/631 776

For more information please contact BulgarianProperties office in Plovdiv:
Business Center Plovdiv
1, Khan Kubrat Str.
4th floor, office 408
Plovdiv 4000

Tel./Fax: +359 32 275 498
Agents: +359 32 275 450
Lawyer/accounting: +359 32 275 499


View properties for sale in the area

Search for related articles in our article section

Request more information


<< read more
A big thanks to all at Bulgarian Properties.com for helping me find a lovely property in Bulgaria. I ...
Dear all on the website after buying a property in September on site we have just purchased another ...
I recently bought a house in a small village outside Vidin. Sergey in the Sofia office was my ...
Terms of Use | Privacy Policy | Cookie Policy

All photos, texts, video clips, charts and banners on our website are property of our company or of our partners and are protected by the Copyright Act of the Republic of Bulgaria. Any unauthorized use of photos, texts, videos and other materials from our website by third parties will be subject to immediate claim on the part of the copyright owners. The information on our website is with information and advertising purposes. Alhtough we have made all efforts to provide accurate information, there may be some mistakes. For full and correct information is considered only the information received at the offices of Bulgarian Properties Ltd.