Furnishing from A to Z. Interior design and furnishing packages for your apartment, holiday home, bar, restaurant, hotel or office.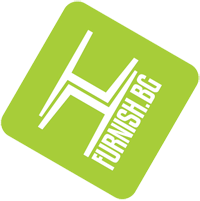 Furnish BG is one of the leading companies in Bulgaria for interior design and complete furnishing. It was established in 2005 to face the increased demand for services of this kind resulting from the steadily rising interest on the Bulgarian real estate market and the large number of newly built and purchased apartments and houses in Bulgaria. Our company grew quickly and now we have offices in Sofia and Varna, and our services cover all popular cities and resorts in Bulgaria.
Furnish BG is a modern company with young and yet experienced employees. All the members of our team are very well trained to provide the highest level of service and meet your demands for a reliable partner in Bulgaria. Our company works with some of the best Bulgarian and foreign furniture producers. That's how we achieve a vast assortment and everyone can find their unique style with us.
The company designs and offers various individual projects, furnishing packages and interior design solutions covering the whole process, namely:
• drawing up an initial interior design concept taking into consideration the investor's ideas and style of the development;
• design and selection of the furniture;
• furniture production;
• organization of the deliveries and fittings;
• monitor the execution of the project: supervise the subcontractors, keep the deadlines, make corrections in case of inaccuracies.
In contrast to home furniture hotel furniture is used much more intensely and by many different people – with various weight, various hygiene habits and behaviour. Therefore, the criteria when choosing furniture apart from the price includes elements like ergonomics and comfort, whether the design is fashionable, quality, durability, easy cleaning and maintenance, preservation of its look for a long time, conformity to fire standards and requirements and many more. Very often special attention is paid to the materials of the furniture as well – sometimes they are of main importance to how long the furniture will be used. For garden furniture the most important features are their durability to ultraviolet rays, humidity, cold, heat.
The fact that Furnish BG takes into consideration all these criteria in its many successful projects is proof for the professionalism of the company's employees. We have different packages designed specially for the holiday developments and the hotels which include everything necessary for renting the property out. The whole furnishing is consistent with all the requirements of tour operators and travel agents and hotel standards in Bulgaria. You can choose among a few price levels and designs as everything is designed in such a way as to save you time and money. The furniture we offer is of high quality and durable, hardy to external influences and its elegance lasts for a long time. Furnish BG will help you choose the furniture that will best fit your hotel or apartments – both as style and budget.
The creation of a stylish interior design solution needs an overall concept and great preciseness of the choice of the components – furniture, lighting, materials, decorations, colors, etc. Despite the fact that everyone has their ideas regarding interior design we don't all have the necessary knowledge and skills to achieve them and can make ungrounded decisions and unnecessary expenses. That is why it is advisable to look for experts to offer you a competent solution.
For those looking for personal approach and wishing to turn their new property in a cozy home Furnish BG offers A-Z consultancy services and free furniture design when buying a full furnishing package. Our clients will get:
• Overall interior design concept and 3D visualization.
• Accurate planning of the spaces.
• Interior architectural design.
• Materials and colors as per the client's wishes.
• Design of electrical wiring, lighting and audio synchronization.
• Selection of furniture and accessories.
• Individual furniture design.
• Accurate evaluation of the project.
• Precise management of the whole project.
• Key-turn service.
Additional services of Furnish BG:
Delivery
We deliver furniture to practically any place in Bulgaria. Some of our destinations are the popular Bulgarian resorts and towns like Aheloy, Ahtopol, Balchik, Borovets, Byala, Dobrich, Dobrinishte, Bansko, Golden Sands, Karlovo, Kavarna, Lovech, Lozenets, Nessebar, Obzor, Pamporovo, Plovdiv, Pomorie, Primorsko, Ravda, Razlog, Sinemorets, Sofia, Sozopol, Sveti Vlas, Troyan, Tsarevo, Varna, Veliko Tarnovo, Velingrad, Vidin, etc.
Installation Services
We offer installation services for all furniture items published on our website. All work done by our qualified installers is covered by a one-year guarantee.
Garantee
Most of our products have a guarantee against defects of the material or production of at least 12 months starting after the delivery date.
Online Shop
For your convenience we created an online shop, where you can choose from variety of quality furniture. Some of the advantages of the online shop are the better prices and the time you save. You can order and pay directly from the site with your credit card.
Furnish.BG Client Club
Furnish BG Client Club is a loyal client program. It guarantees you access to special offers and discounts. If you become a member of the Furnish BG Client Club you can use our loyal client program and get a 3-5% discount from your order. The client card is not in the buyer's name so it can be used by your relatives or friends - both for design and complete furnishing packages and for separate items.
For more information please
contact us
or visit our site
www.furnish.bg
.
We are leaving to drive down to Sinapovo near Elhovo on Monday 5 July, and wonder if any-one will be ...
I just sold a 1 bed apartment in BG and had the pleasure of dealing with Sergey Pelovski. Everything ...
I can highly recommend Sergey Pelovski for giving such great service to us, when selling our ...