Partnership and affiliate programs of BULGARIAN PROPERTIES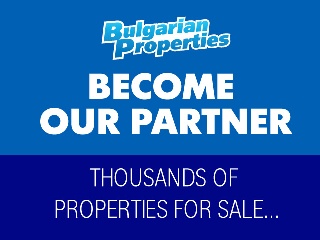 BULGARIAN PROPERTIES is committed to building and maintaining business relationships with our Partners and Affiliates by providing them with the best opportunities within the real estate industry in Bulgaria.
We have over
15 independently owned
and operated real estate offices throughout Bulgaria and abroad, and we are now the biggest real estate company in Bulgaria serving foreign property investors.
With more than 70,000 properties on our books and a full range of property services, BULGARIAN PROPERTIES is an excellent opportunity for any small, medium or large estate agents or self-employed individuals wishing to include Bulgaria in their portfolio. We work successfully on a daily basis with all kinds of real estate agents, all over the world. Our partnerships program is suitable for not only professionals, but also amateur affiliates who have their own blog pages, or run small, home based websites for example. It is even suitable for people without a website, who just wish to use their personal communication skills to start a career in business or real estate. You only need to place a link (containing your unique code) in your email, forums or blog sites. All enquiries will still be tracked.
Whether you are an established real estate company, a professional affiliate, web developer, or have already purchased something here and want to introduce your friends and colleagues, we would like to hear from you.
Working with us, you can be reassured that we will be acting with full protection of your interests and the interests of your clients.
We will provide you with:
· A huge variety of high-quality properties for sale throughout Bulgaria. We can even find a suitable property exactly matching the needs of your client.
· The best prices and discounts – our main goal is to find and offer the best properties at the most competitive prices in Bulgaria.
· Honesty, respect and attention to you and your clients.
· Reliability and protection for you and your clients' interests.
· A full range of services when buying, furnishing or managing your clients' properties
· A complete service pack for your clients in Bulgaria – starting from arranging of the trips to Bulgaria and property viewings to completion of the purchases, as well as the entire range of after sale services your clients may need. We are always here for our clients!
· The best partnership conditions for property sales in Bulgaria.
· A respected and loyal partner in Bulgaria, providing professional services of the highest standard in the real estate industry.
With us you will also receive:
· Access to our know-how on selling properties in Bulgaria to clients from all over the world.
· The opportunity to publish our property listings on your internet page as well as designs of various promotional banners and other advertising materials.
· An online system for registering of your clients and following your sales and commissions in real time.
Our competitive advantages and the strongest features are:
· An exclusive knowledge and experience in selling properties in Bulgaria – we have completed more than 12,000 deals over the past years, 9,000 of which are with foreign clients. We have created the property market for foreign buyers in Bulgaria and thus, we are the experts in this market segment.
· A national coverage with offices in all major cities and resorts in Bulgaria.
· The richest data base with properties for sale in Bulgaria – more than 80,000 online and off-line property listings, which include all types of properties – apartments, apartment complexes, plots of land, houses, offices and commercial properties and many others.
· We have an excellent corporate reputation among our clients, other real estate companies, developers, our partners and various national and foreign media.
· Professional selling skills of our brokers and estate agents.
· Together with the other companies in our holding we have created a complete range of services for our clients. Our company can literally provide any service related to the property purchase and its maintenance and usage.
· Every client of ours is serviced in their native language or in one of the international business languages.
Levels of Cooperation
1) Affiliate Option
, allowing you to place a tracked banner to us on your website that carries a 90 day cookie (enabling us to see where an enquiry has come from).
Send us an enquiry about the Affiliate option
2) Partner Option
, upload properties of your choice from our site on to your website. You can also offer our properties for sale in your shop or office, or print them to show to your acquaintances on paper.
Send us an enquiry about the Partner option
3) Associate Partner
, as a professional estate agent, with a well established business and well known locally or nationally in your country, we would recommend you join this level to earn the highest possible commissions. You will need to fufill the following entry requirements for this option:
• To be a professional real estate agency.
• To have an office which is currently trading as a real estate agency.
• To have at least 2 years experience trading in the real estate market.
• To currently be advertising your properties in the media.
• To be ready to include costs for advertising our properties in your advertising budget.
If you feel confident of meeting all these requirements, please
Send us an enquiry about the Associate Partner option
If all these requirements cannot be met, you are still very welcome to
contact us
about the affilate or partner options detailed above.
Commissions
We pay at regular intervals, to a bank account of your choice, or with Moneybookers. Our commission rates are flexible, and are regularly reviewed depending upon your sales performance.
What else?
All affiliates and partners have full access to our online affiliate system, allowing them to manually add their clients to the affiliates database, view their sales and commissions in real time and also to view their clients' actual enquiries, as well as having full support from our affiliates manager.
Read our article with more information about affiliate programs and partnerships.
For more information on our affiliate and partnership programs,
please contact Magdalena Tosheva
.
Read more about BULGARIAN PROPERTIES Franchise Program
Para la información en español
I sold my apartment through BulgarianProperties.com. Had an offer within a week and sold within 6 ...
Be as SCARED as my wife was it's only natural... We bought in Boyanovo. I'm a sceptical ...
i would like to thank mihail dido and elvira for their help and proffessionalism in securing our ...