Seaside Holiday Development Combines Beautiful Nature and All the Amenities of a Big Resort
2009-07-20 | Dessi Bakardzhieva, stroitelstvoimoti.com, 20.07.2009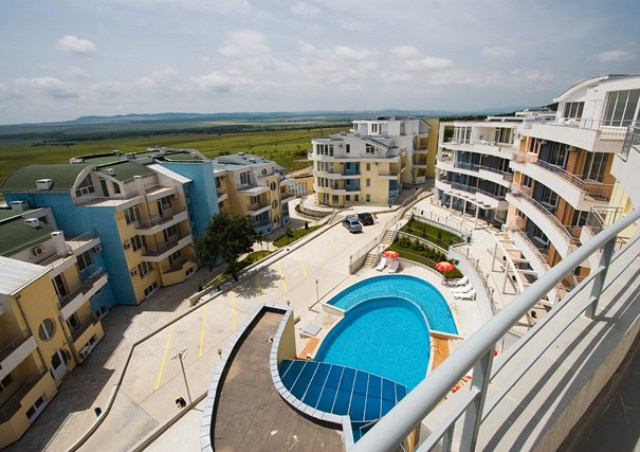 The Sunset Kosharitsa project is in its final construction stage. The third phase of one of the most remarkable holiday developments along the Black Sea coast will be finished by the end of August.

Sunset Kosharitsa is a luxury gated development offering the rare combination of a self-sufficient holiday development set among beautiful nature and easy access to all the amenities of the large resort. The development is set at the foot of Stara Planina Mountain, at the end of Kosharitsa village – only 6 km from Sunny Beach and a 30-minute drive from Bourgas Airport. The location is unique as it is close to the coast and at the same time far from the crowds. The view in all directions stirs positive emotions as on one side is the sea and on the other are the green hills. Another advantage of the area is that despite the growing popularity of the village, Sunset Kosharitsa is outside the densely populated areas. The reason for that is that the complex is situated on a territory that is an ecological zone included in the EU-wide Natura 2000 bio-diversity program. Sunset Kosharitsa is also part of a local energy efficiency project. These two key factors are implemented in the design and the construction of the site thus guaranteeing that both the developer and the apartment owners will contribute to the protection of the environment in the area.

The investor in the luxury development is Beach Apartments Ltd; the architectural design is the work of the design company Art New Vision; the construction works are executed by Eurobuilding Engineering Ltd. The exclusive sales and rental consultant of the development is Bulgarian Properties Ltd and the management and maintenance of the buildings has been entrusted to Property Management BG.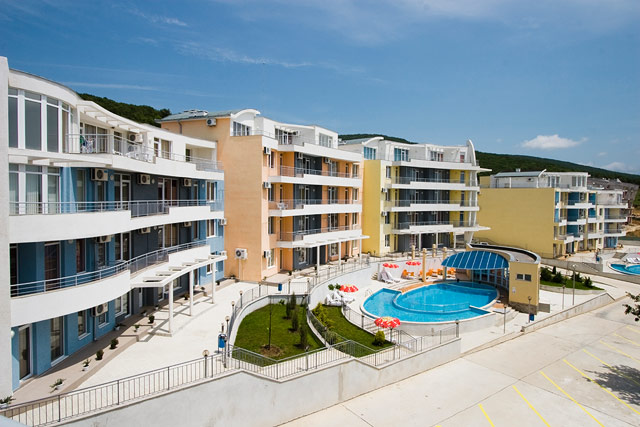 Sunset Kosharitsa consists of two five-storey buildings set opposite each other. The development has three types of apartments – studios and one- and two-beds. The amenities and extras at Sunset Kosharitsa provide additional possibilities for relaxation on the territory of the complex. Guests and owners can relax in the lobby bar or in the café. Between the two buildings there is a big outdoor swimming pool with a separate children's pool, as well as a tennis court which can be used as a volleyball or basketball court. Sunset Kosharitsa also has a children's playground and landscaped green areas. Apartment owners will have the possibility to use all services on the territory of the complex including the 5 pools and 3 pool-bars, the sports center with a gym and aerobics hall, the modern SPA center, the beauty parlor, the two restaurants, the conference hall for 120 people and the mini market.

The total built-up area of the development is over 30,000 sq.m. Its first two phases Sunset Apartments I and Sunset Apartments II are already finished and are functioning.

Watch the film for Sunset Kosharitsa, shown on the Bulgarian National TV7

read more articles