15.02.2011 The property market in Sofia is more dynamic. Increase in the number of apartment deals in Sofia in Jan. 2011
Polina Stoykova, Chief Operations Manager, BULGARIAN PROPERTIES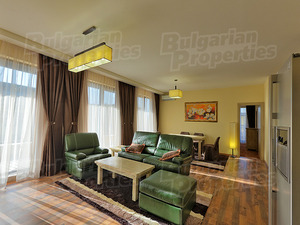 The first month of 2011 was very dynamic and successful in term of deals with apartments in the capital Sofia. On the background of the number of sales around the country equaling those in January 2010, the number of deals in Sofia increased twofold compared to the same month in 2010. If we compare the data of the sales in Sofia in January with previous years according to our company there has never been such a strong January for apartment deals in the capital. Usually the number of sales decreases in the first couple of months of the year, but this didn't happen in 2011.

There is also a considerable increase in the number of deals on a monthly basis compared to December 2010 and so January 2011 is one of the strongest months on the property market in Sofia in the last two and a half years.

This is a very good sign for the real estate market in Bulgaria in general as the trends in Sofia are indicative of the market in Bulgaria as a whole. Also, the recovery of the market is to start from an increased sales volume.

What apartments were bought in January 2011:

• studios and one-bed apartments at an average price of 48,000 Euro
• two-bed apartments priced between 75,000 and 80,000 Euro
• luxury apartments priced between 120,000 and 300,000 Euro

As it can be seen from the data from last month there is interest in different types of apartments as the greatest demand was for one-bed apartments priced up to 50,000 Euro.

Affordability of apartments in Sofia

Analysis of BULGARIAN PROPERTIES based on data of the National Statistical Institute (NSI) about the prices of Sofia apartments, after deducting the inflation the result is that in 2010 prices of flats in the capital returned to levels that are a little bit lower than those in 2005. Meanwhile, people's incomes based on the average salary of 1 employed person in 2010, after deducting the inflation, are about 65% higher compared to those in 2005. This means that apartments in Sofia are now much more affordable for local buyers compared to 6 years ago.

In 2005 people could buy about 0.4 sq.m. of an apartment in Sofia with their monthly salary, while in 2010 – about 0.5 sq.m. because prices fell and salaries continue to increase. For example, an apartment of 70 sq.m. in 2010 would be paid with 132 monthly salaries or for 11 years. In 2005 one needed 175 monthly salaries or 15.4 years to purchase the same apartment.

At the beginning of the last decade to buy the same apartment in Sofia one needed 107 monthly salaries or about 9 years. The lowest purchasing power was registered in 2008 during the price peak – 0.3 sq.m. could be bought with a monthly salary or 233 monthly salaries which means one had to work 19.5 years to buy an apartment in Sofia – almost double the figures registered at the moment.

According to NSI data prices of Sofia apartments dropped by 32.6% from their peak values in 2008. The data of BULGARIAN PROPERTIES shows a decrease in prices in Sofia of 30.8% compared to their highest values in 2008. From the second half of 2010 till now the drops in prices of Sofia apartments are insignificant and there is now a clear trend that the price decrease is ending. Buyers have noticed this as most of them now think that now is the right time to buy.

According to NSI, for the period 2000 - 2010 the accrued nominal growth of prices of Sofia apartments is 171% and after deducting inflation - 51.68.

Perspectives before the real estate market in Sofia

We believe that Sofia will continue to receive migrants from other parts of the country because the possibilities for finding a well paid job here are considerably more compared to the other settlements around the country. This influx of people to the capital will keep the market dynamic and will generate demand. The people coming to the capital will be mainly active and educated persons who prefer Sofia because they can find a prestigious job here and receive a good salary. Moreover, more and more businessmen migrate to Sofia and it is exactly this type of active and educated people who drive the market, because they can afford to buy. What can be noticed is that the property market in the country is at a standstill while in Sofia it is very active.

In January the Bulgarian Stock Exchange increased by 15% and the upward trend continues. The turnover has also increased considerably. Investors have started returning to it. As it is considered that the exchange is an indicator of the future of the other economy sectors we could conclude that the trends are positive. This might encourage property buyers in Sofia who had been postponing their purchase in the last 2 years.

According to data of BULGARIAN PROPERTIES' subsidiary LUXIMOTI – which specializes in elite properties in Bulgaria and abroad – there is a trend for the luxury properties in Sofia to finish soon because the supply of these properties is smaller than the demand and in the last few years the newly-built elite properties are very few.

---
Copyright: 2011 Bulgarian Properties Ltd. All rights reserved. For further information or advice please contact us on tel: +359 2 9 11 50 or e-mail: info@bulgarianproperties.com. The use of this article by third parties is allowed only with proper quotations of the source www.BulgarianProperties.com and the Author of the article. The data in this material has been collected by the Author and Bulgarian Properties Ltd. and is presented for information purposes only. We have made every effort to ensure the accuracy of the data. However, Bulgarian Properties Ltd. cannot be held responsible for loss or damage as a result of decisions made based on this article.
© Bulgarian Properties Ltd. 2011.

TOP PUBLISHED OFFER
TOP SOLD OFFER
read more newsletters
it was a real pleasure to deal with Bulgarian Properties team. Very reliable, trustworthy and ...
I would like to express my gratitude to your employee Elena Akhmedzhanova in the resort of Sunny ...
I cannot belive how easy it was thanks so much to all of you at Bulgarian Properties.We have made ...
Terms of Use | Privacy Policy | Cookie Policy

All photos, texts, video clips, charts and banners on our website are property of our company or of our partners and are protected by the Copyright Act of the Republic of Bulgaria. Any unauthorized use of photos, texts, videos and other materials from our website by third parties will be subject to immediate claim on the part of the copyright owners. The information on our website is with information and advertising purposes. Alhtough we have made all efforts to provide accurate information, there may be some mistakes. For full and correct information is considered only the information received at the offices of Bulgarian Properties Ltd.