16.06.2011 Housing Price Determinants and the Price Cycle in Bulgaria
Polina Stoykova, Chief Operations Manager of BULGARIAN PROPERTIES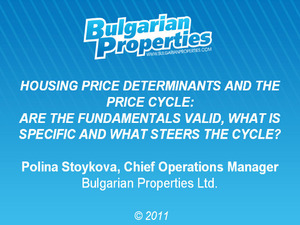 Polina Stoykova, Chief Operations Manager and Head of the Research Department of BULGARIAN PROPERTIES presented a paper at the Summer Conference of the International Academy of Business and Economics in Barcelona, Spain on 3rd June. This paper is published in the current issue of the Journal of International Business and Economics.

The title of the paper is: 'Housing Price Determinants and the Price Cycle: Are the Fundamentals Valid, What is Specific and What Steers the Cycle?' It is the first paper focusing on the real estate market in Bulgaria and comes as a result of months of close observation of the Bulgarian property market, collection and interpretation of market data, all supported by BULGARIAN PROPERTIES and its Market Research Department.

Download a brief presentation of the article from here

Here is an abstract of the paper:

The past decade was very dynamic for the real estate sector throughout the world and especially in Bulgaria, which was often ranked in top 3 of fastest-growing property markets. The housing prices in Bulgaria started the decade at much lower levels compared to all other EU countries in year 2000. Although house prices in Bulgaria still remain on average far below western European levels, they have been catching up rapidly, with real double-digit annual increases, followed by a huge drop of around 40% from 2008 to 2010. This market started developing, went through a boom and then a bust – all this in a period of just 10 years. This was actually the first decade of the existence of a proper real estate market in this post-socialist country, which is presently a member of the EU. Now a lot of questions are raised about how the property market in Bulgaria functions and what are the main determinants of the house prices. Are the fundamental determinants of house prices valid in Bulgaria or there is something specific in this country? What leads the cycle – the GDP and other macroeconomic indicators or the real estate? The current article provides analytical answers to these burning questions using enormous amount of originally collected data and other relevant sources.

The main findings from the conducted research are the following:

• The fundamental long-term housing price determinants are also valid in Bulgaria.

• However, there are some cyclical deviations from the long-term trend which should be explained through the theory of the short-term property price determinants.

• In order to forecast the Bulgarian real estate market the short-term determinants should be used and the general economic development should be considered.

• There are 2 main drivers of the property prices in Bulgaria and their effect appears with a lag of one year.

The participants at the conference expressed a great interest to the topic, to Bulgaria as a developing and attractive property market and to the future development of the real estate markets globally. Many questions were asked and suggestions for future research given, which will be taken in account for our future research projects.

If you wish to receive more information about the article and its findings, please reply to this e-mail with your request


TOP PUBLISHED OFFER
TOP SOLD OFFER
Apartments 90, 116 and 66.
read more newsletters
We would recommend using Bulgarian Properties to buy a property. The service they provide is ...
Fantastic help from Bilyana and Andrey when selling our apartments. They took all the strain away ...
Could you please pass onto Mihail Chobanov my thanks to Kris Bahchevanov and all the staff at your ...
Terms of Use | Privacy Policy | Cookie Policy

All photos, texts, video clips, charts and banners on our website are property of our company or of our partners and are protected by the Copyright Act of the Republic of Bulgaria. Any unauthorized use of photos, texts, videos and other materials from our website by third parties will be subject to immediate claim on the part of the copyright owners. The information on our website is with information and advertising purposes. Alhtough we have made all efforts to provide accurate information, there may be some mistakes. For full and correct information is considered only the information received at the offices of Bulgarian Properties Ltd.