10.08.2011 Prices of Sunny Beach Apartments 50% Lower Compared to Peak Values in 2008
Polina Stoykova, Chief Operations Manager, BULGARIAN PROPERTIES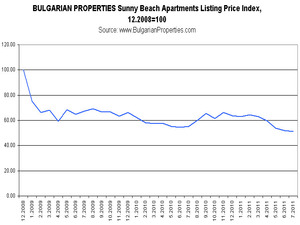 BULGARIAN PROPERTIES' index of the listing prices of apartments in Bulgaria's biggest seaside resort – Sunny Beach – shows that at present prices of holiday apartments there are 50% lower compared to their peak values in 2008.

With index value of 100 in December 2008 in July 2011 it is already 51.29 which shows an almost 50% decrease in the listing prices compared to their highest value in 2008. The drop in apartment prices based on actually concluded deals is similar – 54%. In the last few months there is a trend of price stabilization and an increase in the number of deals with apartments in Sunny Beach which shows that the local market has reached a balance point in the present market and economic conditions.

In the first seven months of 2011 apartments in Sunny Beach – shows that at present prices of holiday apartments were offered at an average price of 768 EUR/sq.m. or 53,000 Euro. To compare, based on actual concluded deals, average prices of Sunny Beach apartments are 515 EUR/sq.m. or 34,900 Euro. This shows that there is still a gap between the listing prices and the prices at which deals are concluded but also that it is mainly apartments in the lowest price segment that are purchased in Sunny Beach, while there is supply in various price segments between 400 and 1,000 EUR/sq.m.

The graphics show that the listing prices and the prices of actual concluded deals were the same in 2008, before the crisis. In 2009 the listing prices in the beach resort fell by about 20% (with a 40% drop based on actual concluded deals), there was an additional drop of 10% in the listing prices in 2010 (with an almost 20% drop based on actual concluded deals) and in 2011 prices remain stable and there are more deals in the resort which is very popular among Russian property buyers.

Sunny Beach and the region play a leading role in the dynamics of the property market, especially regarding the holiday home sector. A highlight in the BULGARIAN PROPERTIES' market analysis of 2Q 2011 was the more sales in and around Sunny Beach and the fact that 95% of the deals in this region are concluded with Russian buyers. The low prices, the big supply and the flexibility of the sellers in terms of property prices makes the area of Sunny Beach an attractive place to buy and the present moment – the perfect time to strike a bargain.

Book a viewing trip in Sunny Beach or call us on +359 886 088 088

Read our analysis of the Bulgarian property market for 2Q 2011

---
Copyright: 2011 Bulgarian Properties Ltd. All rights reserved. For further information or advice please contact us on tel.: +359 2 9 11 50 or e-mail: info@bulgarianproperties.com. The use of this article by third parties is allowed only with proper quotations of the source www.BulgarianProperties.com and the Author of the article. The data in this material has been collected by the Author and Bulgarian Properties Ltd. and is presented for information purposes only. We have made every effort to ensure the accuracy of the data. However, Bulgarian Properties Ltd. cannot be held responsible for loss or damage as a result of decisions made based on the information presented in this article.
© Bulgarian Properties Ltd. 2011.


TOP PUBLISHED OFFER
TOP SOLD OFFER
Ap. 116
read more newsletters
Hello. Congrats for your great job! I've learned a lot about Bulgaria from your website. On a weekly ...
Very loyal and professional partner! I recommend Bulgarian Properties to all interested clients. ...
We would like to say a BIG THANK YOU Mr Sergey Pelovski for his efficient asisstance throughout all ...
Terms of Use | Privacy Policy | Cookie Policy

All photos, texts, video clips, charts and banners on our website are property of our company or of our partners and are protected by the Copyright Act of the Republic of Bulgaria. Any unauthorized use of photos, texts, videos and other materials from our website by third parties will be subject to immediate claim on the part of the copyright owners. The information on our website is with information and advertising purposes. Alhtough we have made all efforts to provide accurate information, there may be some mistakes. For full and correct information is considered only the information received at the offices of Bulgarian Properties Ltd.