29.05.2007 INTERNATIONAL COOPERATION – THE MODERN BUSINESS DEVELOPMENT MODEL: How To Create A Lucrative Partnership With BulgarianProperties?
Polina Stoykova, BulgarianProperties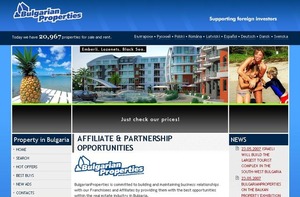 There has been a growing interest in cooperation with BulgarianProperties. Thus, we give answers, ideas and information about the various options for international partnerships with our company. We are also open to new ideas and discussions – please send us an e-mail.

It is not a secret that the property business in Bulgaria has been growing and attracting a lot of people and companies, all wishing to become involved in property sales. It has become a very common practice for property agencies to cooperate with leading companies such as BulgarianProperties, instead of creating a brand new business model. It is also extremely modern nowadays for people to have flexible working arrangements having the opportunity to turn their hobbies into jobs. We hope this article be useful to all.

WHO CAN ESTABLISH AN INTERNATIONAL COOPERATION AND WHY?

There are various types of persons who involve in partnerships and affiliations:

• Companies who wish to build a long-term relation with their clients searching for ways to extend their business activities according to customer demand. These are predominantly property agents willing to enter new markets but can also be companies from related businesses willing to extend the range of services they provide.

• People who have skills to convince people and wish to be self-employed and enjoy their hobby as a full-time job.

• Computer specialists or website owners who build their own websites with the purpose of becoming affiliate partners with established companies.

There are plenty of cooperation opportunities between companies, which are facilitated by the so-called affiliate systems (sophisticated data bases which track clients of partnering companies and help calculation and payment of commissions).

Why involve in international cooperations - we see these options as contemporary business development models as they generate wealth combining knowledge from various fields and in this way form competitive advantages.

HOW DO THE PARTNERSHIP/AFFILIATE SYSTEMS WORK?

The partnership/affiliate systems are based on pay-per-performance which can be assessed as payments per click on banners, per visit, per lead, per sale or combinations. There are also a number of other types of more complicated calculations of commission payments. The above mentioned ones and especially pay-per-lead and pay-per-sale are most commonly used.

Payment per lead is a method to calculate the number of people referred from the partners' websites or offices to the affiliated company. The affiliated company pays commissions for every lead.

Payment per sale involves the partner to do some efforts to convince the potential buyers and help the affiliated company make a sale. These commissions are highest but require more time and involvement in the sales process.

When starting an international partnership/affiliation you should make an agreement and then start promoting your website or your company in order to attract clients. It is not very easy to get traffic to your website as it needs to be with a lot of information in order to be found in the search engines. Alternatively, you should plan marketing activities to promote your company or the services you provide in order to attract clients. So, partnerships require dedication and planning as well as strategic development of your own business in order to work properly.

HOW ARE CUSTOMERS TRACKED?

The affiliate systems most commonly use cookies to track clients being redirected from one website to another. Of course, there is the option for the partners to add their clients in their own account and this way mark these clients as theirs. The techniques for tracking clients have evolved over the past years and there are less and less possibilities for losing clients and commissions.

BulgarianProperties's affiliation and partnership system is a very well-established one with years of experience, regular updates and a lot of working cooperations. As we know the details, we strongly recommend that when you wish to establish a partnership, you should choose only established and well-known companies. E-mail us for more details.

WHAT KNOWLEDGE IS REQUIRED TO ESTABLISH AN INTERNATIONAL PARTNERSHIP?

It depends mostly on the type of partnership you wish to make.

If it is based on affiliation and building of websites to redirect clients to an affiliated website, you should rely on the positioning of your own website in the search engines and optimize this via uploading information and retaining people's interest towards your website.

If you are an estate agent and you wish to add a new country to your portfolio, you should know the basics of property sales in Bulgaria and be active and willing to learn new things with the help and support of your international partner. BulgarianProperties has a partner's support team who provides all needed information and advice to partners in order to help the cooperation work well for both parties and for the clients.

If you are a self-employed person who enjoys convincing people and selling, you should know how to raise the interest towards buying properties in Bulgaria (your friends and acquaintances can be the trial target) and be able to communicate all the important details, which will contribute to more sales and commissions.

Affiliates and partners involved in affiliate marketing should not necessarily be computer specialists - it is easy to learn how to work with the specially designed software. It is more important for them to be involved and dedicated to what they are doing.

HOW TO ESTABLISH A COOPERATION AGREEMENT?

The companies who offer partnerships announce this in their offices or websites. The easiest way to register for partnership or affiliation is to find an announcement on a corporate website and send an enquiry. They will then contact you back with more information. A good way of establishing partnerships is visiting shows and exhibitions where to meet with companies from certain fields, or contact well-known companies and arrange appointments with them in order to discuss partnership opportunities.

Our International Affiliate and Partnerships Programme Manager Mr Andrew Willis will be in contact with you and will help you tailor the agreement according to your ideas and plans.

The international cooperations are the successful modern business model, which helps companies stay flexible and still develop their businesses entering new markets. Partnerships offer the opportunity for companies and individuals to start or develop their own small profitable businesses using an already developed business model, support and knowledge of the partnering companies. This all contributes to the global knowledge transfer and accumulation of wealth.

For more information or enquiries, please send us an e-mail

TOP PUBLISHED OFFER
TOP SOLD OFFER
read more newsletters
Petya and Mihail, thank you so very much for everything you did for us during our first trip to your ...
Dear (Here goes..) Elvira, Daycey, Nasko, Maria, Svetla, Christeen, and OF COURSE THE FABULOUS ...
I would like to say thank you to Bulgarian properties and especially Sergey Pelovski for purchasing ...
Terms of Use | Privacy Policy | Cookie Policy

All photos, texts, video clips, charts and banners on our website are property of our company or of our partners and are protected by the Copyright Act of the Republic of Bulgaria. Any unauthorized use of photos, texts, videos and other materials from our website by third parties will be subject to immediate claim on the part of the copyright owners. The information on our website is with information and advertising purposes. Alhtough we have made all efforts to provide accurate information, there may be some mistakes. For full and correct information is considered only the information received at the offices of Bulgarian Properties Ltd.