NEWSLETTER
18.08.2009 A Place in the Sun Magazine: "We Can't Afford to Buy in the UK, so We're Looking in Bulgaria"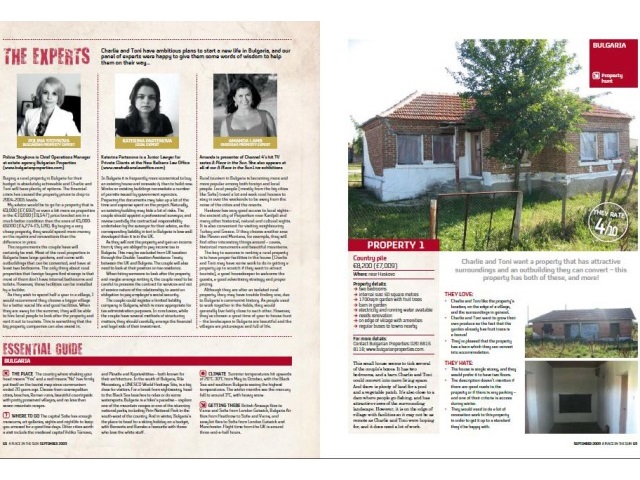 In its August issue British property magazine A Place in the Sun tells the story of Charlie Horton and Toni Walker from Wiltshire who want to buy property in Bulgaria. Charlie and Toni have a budget of 5,000-7,000 GBP and their plan is to buy two rural properties, or a house with an outbuilding they can renovate. Their plan is to spend half the year in Bulgaria and the other half in the UK, so that Charlie can keep an eye on his business interests, which, they're hoping, will bring in enough cash for them to live on in Bulgaria, where the cost of living is low.
According to the magazine Charlie and Toni have ambitious plans to start a new life in Bulgaria, and the panel of experts were happy to give them some words of wisdom to help them on their way:
Polina Stoykova is Chief Operations Manager at estate agency Bulgarian Properties (www.bulgarianproperties.com)
Buying a rural property in Bulgaria for their budget is absolutely achievable and Charlie and Toni will have plenty of options. The financial crisis has caused the property prices to drop to 2004-2005 levels.
My advice would be to go for a property that is €9,000 (£7,692) or even a bit more as properties in the €10,000 (£8,547) price bracket are in a much better condition than the ones of €5,000-€6000 (£4,274-£5,128). By buying a very cheap property, they would spend more money on the repairs and renovations than the difference in price.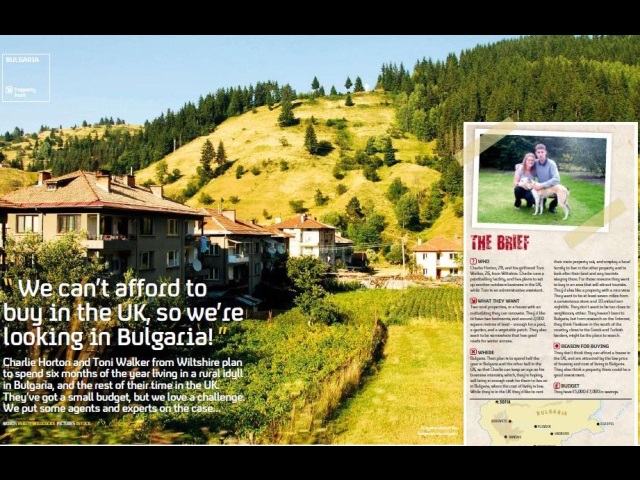 The requirements the couple have will certainly be met. Most of the rural properties in Bulgaria have large gardens, and come with outbuildings that can be converted, and have at least two bedrooms. The only thing about rural properties that foreign buyers find strange is that most of them don't have internal bathrooms and toilets. However, these facilities can be installed by a builder.
As they wish to spend half a year in a village, I would recommend they choose a bigger village for a better social life and good facilities. When they are away for the summer, they will be able to hire local people to look after the property and rent it out to tourists. This is something that the big property companies can also assist in.
Amanda is presenter of Channel 4's hit TV series A Place in the Sun.
Rural tourism in Bulgaria is becoming more and more popular among both foreign and local people. Local people (mostly from the big cities like Sofia) travel a lot and seek rural houses to stay in over the weekends to be away from the noise of the cities and the resorts.
Haskovo has very good access to local sights -the ancient city of Perperikon near Kardjali and many other historical, natural and cultural sights. It is also convenient for visiting neighbouring Turkey and Greece. If they choose another area like Pleven and Montana, for example, they will find other interesting things around - caves, historical monuments and beautiful mountains.
The key to success in renting a rural property is to have proper facilities in the house (Charlie and Toni may have some work to do in getting a property up to scratch if they want to attract tourists), a good housekeeper to welcome the guests, a good advertising strategy and proper pricing.
Although they are after an isolated rural property, they may have trouble finding one, due to Bulgaria's communist history. As people used to work together in the fields, they would generally live fairly close to each other. However, they've chosen a great time of year to house-hunt - the landscapes in Bulgaria are beautiful and the villages are picturesque and full of life.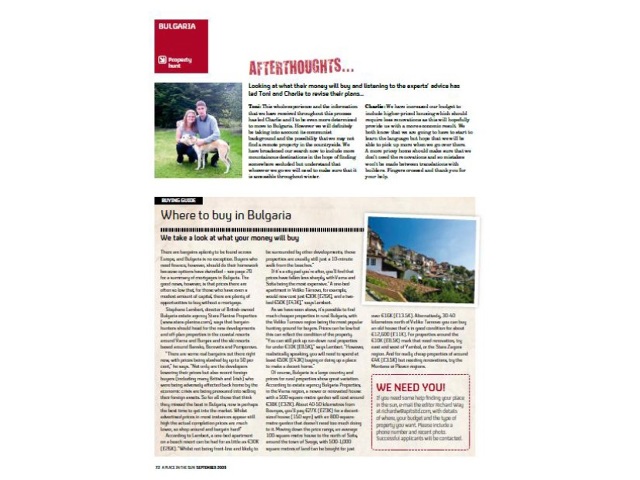 The aftermath
Charlie and Toni are given three rural properties t choose from – a
house near Haskovo
(which they rate 4/10), a
house near Stara Zagora
(which they rate 7/10) and a house near Haskovo (which they rate 7/10). The aftermath is that the whole experience and the information that they received throughout the process has led Charlie and Toni to be even more determined to move to Bulgaria. However they will definitely be taking into account its communist background and the possibility that we may not find a remote property in the countryside. They have increased their budget to include higher-priced housing which should require fewer renovations.
---
Copyright: 2009 Bulgarian Properties Ltd. All rights reserved. For further information or advice please contact us on tel: +359 2 9 11 50 or e-mail: info@bulgarianproperties.com. The use of this article by third parties is allowed only with proper quotations of the source www.BulgarianProperties.com and the Author of the article. The data in this material has been collected by the Author and Bulgarian Properties Ltd. and is presented for information purposes only. We have made every effort to ensure the accuracy of the data. However, Bulgarian Properties Ltd. cannot be held responsible for loss or damage as a result of decisions made based on this article.
© Bulgarian Properties Ltd. 2009.