09.10.2007 Two ways to beat the price rises - here's how …
Adrian Musgrave, BulgarianProperties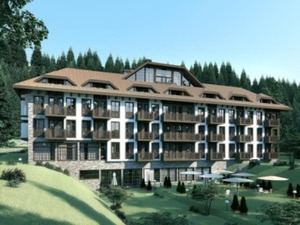 With a 20 - 24% annual growth rate now pretty firmly established in Bulgaria's maturing property market, it is inevitable that each new off-plan development will carry at least two or three price rises during its construction. As soon as an apartment is reserved, though, the price is locked and the benefit of all subsequent increase in value passes from the developer to the buyer.

So, the trick is to buy at the launch or, even better, the pre-launch phase. Then you can just sit back and relax knowing that, as you watch the building grow, you are watching the value of your investment grow with it. And, of course, early purchase also brings a host of other benefits. You will have a wider choice of available properties, a more attractive range of payment options, a longer payment period before completion and further infrastructure developments in the local area during construction.

Consider, for instance, how all of these benefits come into play at Bellecote Pamporovo - our current release in the heart of the area that is set to become Bulgaria's biggest and most popular ski resort over the next five years. Here, a "sooner the better" purchase is clearly the way to acquire your ideal property at the best possible price and maximise the return on your investment.

But it's not the only way …

Buying into an off-plan development part-way through its construction cycle will also give you added bonuses. Not only will you will be able to enjoy your own no-cost holidays from the day that your property is completed but, if you are letting your property to tourists, you will also be generating rental income much sooner. Buying during construction will mean a shorter timeframe for payment before you take ownership of your property and your choice of available apartments may be narrower - but these issues can be relatively minor when offset by the additional advantages of earlier completion

Timing is critical when planning your purchase in this way. You need to know when prices will rise so that you can step in to reserve your property at just the right point. But decisions about price increases prices during construction are down to the developer's own particular business strategy and interpretation of the market and, unfortunately, this information is not normally available to customers before the event. Because of our close working relationship with developers, though, we are sometimes able to bring this key information forward for our clients ... and this is one of those occasions. We are now able to pinpoint two developments for you where price rises are imminent but, today, there are still apartments available at the original pre-increase prices

At Danubia Lodge - an exclusive Danube river-front development near Vidin, scheduled for completion by the end of this year, you can find a studio for as little as 19565 euro, a large 1-bedroom apartment with three river view balconies for just 48758 euro or a 2-bedroom apartment for an incredibly low 57818 euro. Vidin is one of the regions in Bulgaria with fastest growing economy, driven by the construction of the new Danube bridge - a 236 mln. Euro investment funded by the EU. Similarly, at Gabrovo Hills, set on the highest point in the region, with magnificent views but near the centre of Gabrovo town and close to the Uzana ski-runs, how about a studio for around 26500 euro or a 1-bedroom apartment for just over 35000 euro … and you could move in by the beginning of next year.

Purchase costs at both of these developments are to be increased soon - so contact us today to make sure that you can beat these price rises …


TOP PUBLISHED OFFER
Guaranteed rental. Bulgarian mortgage available.
TOP SOLD OFFER
read more newsletters
we have just purchased a really nice house in melnitsa,all arrangements were made through the elhovo ...
Thank you to BULGARIAN PROPERTIES for services rendered. Your estate agent Hristo was extremely ...
Both Gergana and Angel are real professional, they were extremely helpful. They made us an ...
Terms of Use | Privacy Policy | Cookie Policy

All photos, texts, video clips, charts and banners on our website are property of our company or of our partners and are protected by the Copyright Act of the Republic of Bulgaria. Any unauthorized use of photos, texts, videos and other materials from our website by third parties will be subject to immediate claim on the part of the copyright owners. The information on our website is with information and advertising purposes. Alhtough we have made all efforts to provide accurate information, there may be some mistakes. For full and correct information is considered only the information received at the offices of Bulgarian Properties Ltd.