03.09.2008 BULGARIAN PROPERTIES in the media: Bulgaria's 2008 Real Estate Market Is Calmer and Segmented
Velimira Dimitrova, BULGARIAN PROPERTIES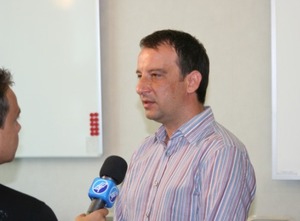 From October 10th to 12th 2008 Bulgaria's capital Sofia will host the 4th Balkan Real Estate Exhibition BalPEx. Traditionally, before the exhibition a press conference is held which is something of an hors d'oeuvre to the event itself as some of the most topical real estate market issues are discussed there. The press conference held on September 1st 2008 at the Hilton Hotel Sofia was attended by representatives of the leading property agencies in the country including BULGARIAN PROPERTIES – a silver sponsor of the exhibition. BULGARIAN PROPERTIES CEO Mihail Chobanov was among the participants in the press conference whose main topic was The 2008 Real Estate Market in Bulgaria – Great Demand, Great Supply, Great Misunderstanding.

To the media Mihail Chobanov outlined the following trends:

Real estate has always been considered one of the most profitable types of assets and investments. This year the real estate market in Bulgaria is quite different from that of last year – 2007 witnessed an unseen price boom while in 2008 the market is already segmented and the prices increase with a stable pace. This year the market is already divided into three different segments: lower, middle and luxury. Property prices in the middle segment are rising slightly which is most obvious in Bulgaria's five biggest cities – Sofia, Plovdiv, Varna, Bourgas and Rousse; the prices in the luxury real estate sector are increasing with a stable rate while in the lower segment there is a correction in real estate prices which in some cases are decreasing. To put it in a nutshell: the prices of luxury real estate are to continue to increase while the prices of properties of lower quality are to be corrected.

On September 2nd 2008 Mihail Chobanov was invited to comment the latest trends on the Bulgarian real estate market on the morning program Deniat Zapochva on the Bulgarian National Television (BNT). During the interview Mr. Chobanov answered the question whether the prices of real estate will fall. "This is not expected to happen especially in the bigger cities and with luxury properties where the trend is a stable price growth. In the last couple of years the economic situation in the country has been improving which leads to bigger salaries and thus greater demand. This trend will continue and more and more Bulgarians will be able to afford a new home", he added.

On the question what do clients look for Mr. Chobanov answered thus:

The clients look for quality, good location, amenities and, of course, for a lucrative price, i.e. each client looks for a good deal. All this imposes the offering of a product that is of a better quality in order to satisfy the ever growing needs of the clients. In the future those clients looking for a better deal will be offered a product that is of better quality.

Lately, besides directing their attention to a product of better quality the clients also look for an attractive environment and extras. The purchase of a real estate is not only about the property anymore but also about the features and amenities the area offers. And thus the conclusion that the buyers already look for the whole package which includes the property, the environment, the amenities and the extras and the developers must take this into consideration.

Now would be a good time to note the connection between price and quality. It would be safe to say that the increased real estate prices correspond to the increased quality of the properties offered and the services related to them. The trend is the number of new buildings that offer luxury quality and finishing works to increase. In the last few years Bulgaria witnessed great progress in the construction sphere – the materials used are of higher quality and new technologies are being implemented which inevitably leads to more expensive homes but the bottom line is that the client can expect a much better product. Indisputably, good quality is a function of price – the more money the client is ready to pay the better quality they will get.

The potential of the real estate market

The real estate market still has investment potential in various areas. However, the clients looking to invest must be cautious and are strongly advised to use the services of professional real estate agents so that they would be advised in the right direction.
The property market has many niches for which the right moment to invest has come. But the client who wants to take that step must be sure they will be consulted by an expert.

In conclusion one more observation should be added: it is of great importance to the future of the real estate market what the strategy of the Bulgarian government will be regarding the popularizing of the country and its rich cultural-historical heritage with the aim of attracting more foreign investors.

View our hot offers

Read an extensive interview with BULGARIAN PROPERTIES CEO on Bulgaria's 2008 Property Market




TOP PUBLISHED OFFER
TOP SOLD OFFER
read more newsletters
Dear personnel of Bulgarian Properties, I am extremely grateful for the efficient and smooth ...
Special thanks to all in the Burgas office, you know who you are! I bought a property in a village ...
Nic is great & very patience too without his help I would never purchased my new home in Vidin. ...
Terms of Use | Privacy Policy | Cookie Policy

All photos, texts, video clips, charts and banners on our website are property of our company or of our partners and are protected by the Copyright Act of the Republic of Bulgaria. Any unauthorized use of photos, texts, videos and other materials from our website by third parties will be subject to immediate claim on the part of the copyright owners. The information on our website is with information and advertising purposes. Alhtough we have made all efforts to provide accurate information, there may be some mistakes. For full and correct information is considered only the information received at the offices of Bulgarian Properties Ltd.