12.02.2008 Rural Properties in Bulgaria – attractive second homes and also a good investment
Polina Stoykova, BulgarianProperties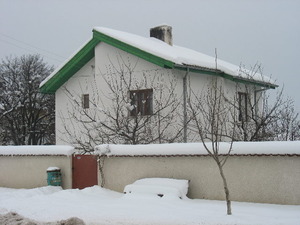 A lot has been said about the property market in Bulgaria and about the pros and cons of buying a property in this country.

Indisputably, Bulgaria offers:
• A great variety of geographically different areas to suit all tastes.
• The property prices are still below the average minimum in other EU countries.
• Investment in properties in Bulgaria is the most profitable in the world according to statistics for 2007 when the prices increased with around 28%.

These are all facts supported by specialized statistics and analysis.

The property markets in the capital, the ski and beach resorts have been widely discussed as these are the places with the greatest concentration of investment interest and highest returns on investment.

What about the rest of the country? It is interesting to know what the small settlements offer in terms of a chance for a new life and property investment? This article aims to uncover the important aspects about buying rural properties in Bulgaria.

Read more about rural property purchase process

1. Why do foreigners buy rural properties in Bulgaria?

Most of them are attracted by:
• low property prices;
• mild climate;
• low cost of living;
• hospitable Bulgarian people and
• chances to start a new life in a modernizing country with great opportunities.

Bulgaria has been an EU member since 2007, which means easier adaptation for EU citizens to the life in Bulgaria.

Many foreigners like the "back to basics" way of life in Bulgaria:
• living in a quiet, friendly village, not commercialized;
• having a huge garden;
• planting and growing vegetables for a healthy diet;
• having fruit trees in the gardens;
• inviting friends for dinners;
• having more free time and relaxation, away from any noise and pollution;
• slowing down the pace and finding the true things in life;
• socializing and learning new things;
• and many more, because Bulgaria offers something for everyone.

2. Where do foreigners buy rural properties?

The answer of this question can be: "All over the country".
For the ones who don't know a lot about Bulgaria these are the towns and villages around the following regional centres: Burgas, Varna, Veliko Tarnovo, Gabrovo, Karlovo, Plovdiv, Stara Zagora, Elhovo, Yambol, Kardjali, Haskovo, Sliven, Vidin, Pleven, Sofia and Montana.

Our section Towns and villages gives a lot of information about the peculiarities of each area.

3. Why are rural properties a good investment?

The statistics usually concentrate on the best investment locations in Bulgaria. However, rural properties have also appreciated in value quite a lot over the years although this is not the main reason why people buy rural properties. Truly, they don't yield the highest returns on investment, but are a safe investment asset as well as an excellent choice for a second home for vacations or a new life.

Here is what BulgarianProperties' statistics for 2007 compared to 2006 shows for the rural properties around the following regional centres (the figures reflect only the rural properties price increases):

Plovdiv and Stara Zagora:
2007 price increase: 37% ; Average price in 2007*: 14,000 Euros
Elhovo, Yambol and Sliven:
2007 price increase: 26%; Average price in 2007: 13,600 Euros
Varna:
2007 price increase: 24%; Average price in 2007: 55,260 Euros
Burgas:
2007 price increase: 19% ; Average price in 2007: 31,000 Euros
Montana:
2007 price increase: 19%; Average price in 2007: 6,230 Euros
Kardjali:
2007 price increase: 17%; Average price in 2007: 16,000 Euros
Vidin:
2007 price increase: 16% ; Average price in 2007: 10,500 Euros
Central Balkan area:
2007 price increase: 13%; Average price in 2007: 14,200 Euros

*These are all average prices which serve as indicators for market analysis. There are more and less expensive properties in any of the listed areas.

The statistics are based on completed deals in 2007 compared to 2006 and reflect the real match of supply and demand for rural properties in the different areas. This is the price increase only for 1 year. The numbers will be much higher if we calculate the price increases of the rural properties since 2003 when the property market started booming.

The most expensive areas in 2007 remain Varna and Burgas. The cheapest areas are still Montana and Vidin. Vidin is a prospectively very attractive area with the building of Danube Bridge II and the growing investment in the area. The prices in the other areas tend to become similar with the underestimated areas like Plovdiv and Stara Zagora quickly catching up with the rest with higher price increases.

So, we can say that rural properties are a very stable investment option as it yields a double-digit appreciation per year, which is better than what any bank can offer. More and more newly renovated rural properties are coming to the market for sale, which helps the buyers, who want to buy something that is ready to move in to.

Although the highest returns on investment can be expected from Sofia city properties and the beach and ski resorts (where the properties can also be rented), the rural properties should not be underestimated in terms of safety and value appreciation.

Rural properties in Bulgaria offer numerous chances to experience a new way of life, back to basics, surrounded by the beautiful Bulgarian nature and are at the same time are a good investment protecting the value of the savings people have.


TOP PUBLISHED OFFER
TOP SOLD OFFER
read more newsletters
I just sold a 1 bed apartment in BG and had the pleasure of dealing with Sergey Pelovski. Everything ...
Just bought a lovley house in Dryannovo (Elhovo) so much safe space for the children, and such kind ...
I would like to express my gratitude to BULGARIAN PROPERTIES, especially the sales manager Sergey ...
Terms of Use | Privacy Policy | Cookie Policy

All photos, texts, video clips, charts and banners on our website are property of our company or of our partners and are protected by the Copyright Act of the Republic of Bulgaria. Any unauthorized use of photos, texts, videos and other materials from our website by third parties will be subject to immediate claim on the part of the copyright owners. The information on our website is with information and advertising purposes. Alhtough we have made all efforts to provide accurate information, there may be some mistakes. For full and correct information is considered only the information received at the offices of Bulgarian Properties Ltd.