23.09.2008 Bulgaria on the Golfing Map
Velimira Dimitrova, BULGARIAN PROPERTIES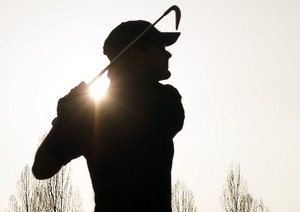 Bulgaria has the ambition to turn into a leading golf destination in Europe. And this could very possibly happen as even the legendary golfer Gary Player exclaimed: "In my golf career I have not seen anything as good as this golf course" having in mind the Thracian Cliffs golf course located right on the coastline near the Black Sea town of Kavarna.

Currently there are quite a few golf courses being built in Bulgaria, including a 50-million-euro development near Pravets, and experts believe that strong investment interest will eventually lead to up to the construction of up to forty more resorts in the near future.

However, at the moment there are five golf courses which are functioning. Two of them are near the capital Sofia, one is in the town of Sliven and two are with a unique location on the Black Sea coast.
The courses around Sofia include that near the town of Ihtiman (the first golf course in Bulgaria) – a wonderful 18-hole golf facility spanning over an area of over 500 decares with Par 71. The golf course is only 40 km from Sofia along the E-80 Trakia Highway.

The second golf course close to Sofia is the St. Sofia Golf Club in the village of Ravno Pole, only 10 km from the capital. The course offers the golfers 18 holes on an area of 650 decares, with par 72. Experts say the course complies with all European standards and it can host professional tournaments.

The 18-hole golf course which was opened in 2004 in the beautiful town of Sliven(southeast Bulgaria) spreads on an area of 500 decares, par 71. The golfing facility is only 90 km from the Black Sea allowing easy access to the coastal resorts and it boasts spectacular views to the Balkan mountain range.

Black Sea Rama golf course is one of the two newest functioning courses in the country as it was opened earlier this year. The 18-hole golf course was designed by the legendary golfer Gary Player and offers unbelievable views of Bulgaria's Black Sea coast. Varna International Airport is just 30 minutes away, as well as some of the biggest seaside resorts.

Lighthouse Golf Resort near the Bulgarian Black Sea town of Balchik opened its doors this month and already hosted the Mercedes-Benz Open Golf Tournament. The designer of the golf course is the world-famous golfer Ian Woosnam. The prestigious 6747 yard, par 71 course is a perfect challenge for those who enjoy the great game.

There are few corners of Bulgaria where there are no golf courses being currently developed or already functioning. Golf is the new mantra, the magic word that will put Bulgaria on the global golfing map. The areas where most golf courses are located can be summarized as follows: near the capital Sofia, on the Black Sea and in a mountain region. Two of the four functioning courses are set close to the capital, this apparently being a winning move. Currently one more golf facility located close to Sofia is being constructed - Pravets Golf Resort & Country Club. Two other courses are being projected in the area – in the Sofia quarter of Gorna Banya and in the village of Kutina, to the north-west of the capital.

The Black Sea region is also a hot golfing spot, especially with the state-of-the-art Black Sea Rama and Lighthouse Golf Resort which opened earlier this year and the soon-to-be-finished Thracian Cliffs golf course. The three of them are located on the northern Black Sea coast, close to the towns of Kavarna and Balchik. There are a couple of other golfing projects underway along the Bulgarian coast in the southern resort town of Primorsko.

In terms of golf courses with mountain location the town of Razlog is the indisputable golfing winner. Currently the Pirin Golf & Country Club is under construction and three more golf courses are in the pipeline. Razlog's more famous neighbor Bansko is to host the fifth course in the area.
The other famous Bulgarian ski resort – Borovets, is also going to witness the construction of a golf course which is currently underway in the nearby village of Dolna Banya.
Northern Bulgaria will not be left out of the golfing craze either – a new golf course is on the drawing table its location being the town of Razgrad in northeastern Bulgaria, in the Danube Plain.

Bulgaria has all that it takes to become the next golf gold mine having the strong support of the government and all the necessary features to achieve it – wonderful climate, beautiful nature and soon – a variety of golf courses to suit every mood and skill level. So next time you decide to swing the golf club why not do it in Bulgaria.

View all our offers on/near a golf course


TOP PUBLISHED OFFER
TOP SOLD OFFER
read more newsletters
We just wanted to say thanks to Nick and everyone at the Varna office for the help they gave us in ...
Dear Sir I have just returned from a one day visit to Vidin. I feel that feedback is ...
I sold my apartment through BulgarianProperties.com. Had an offer within a week and sold within 6 ...
Terms of Use | Privacy Policy | Cookie Policy

All photos, texts, video clips, charts and banners on our website are property of our company or of our partners and are protected by the Copyright Act of the Republic of Bulgaria. Any unauthorized use of photos, texts, videos and other materials from our website by third parties will be subject to immediate claim on the part of the copyright owners. The information on our website is with information and advertising purposes. Alhtough we have made all efforts to provide accurate information, there may be some mistakes. For full and correct information is considered only the information received at the offices of Bulgarian Properties Ltd.