17.02.2009 Property Insurance in Bulgaria. Insurance Prices.
Polina Stoykova, BULGARIAN PROPERTIES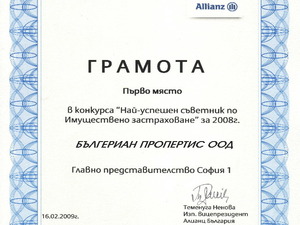 Although our Bulgarian clients are still considering whether the property insurance is a necessity or an additional extra, our foreign clients require this service in almost 100% of the cases. That is why one of the first departments in the company BULGARIAN PROPERTIES was the Insurance department. Our insurance experts help you find the best insurance product for your needs and takes care of the renewal of the insurance policies and provide assistance in case of an occurrence of an insured event. Besides insurance of immovable property, we also offer all other types of insurance.

The result of the work of our insurance department is that on February 16th 2009, for a third year in a row, it was announced number one broker in the country in the Property Insurance category by one of the biggest insurance companies in Bulgaria - Allianz. BULGARIAN PROPERTIES' insurance expert Galya Zlatanova was there to accept the award on behalf of the company.

BULGARIAN PROPERTIES advise property buyers to consult an insurance expert to assist them in choosing the insurance product for their property and to present to them the best price offer.

The insurance premium is defined on the basis of the insurance company tariffs and depends on the type and location of the property insured, its insurance price, the agreed range of the insurance cover and the specific risk factors. For example, a property in Sofia with a price of 50,000 Euros can have a base cover insurance for 80-100 Euros. For any extended covers that include furnishing and domestic appliances the price of the insurance increases.

Insurance Prices in Sofia*

Insurance amounts vary a lot – from 20,000 Euros to 130-150,000 Euros. The type that prevails is insurance of properties with prices between 70,000 and 110,000 Euros as the insurance package includes insurance against burglary of movable property – furnishing and appliances. The prices of this type of insurance vary between 200 and 400 Euros. Most of the clients of BULGARIAN PROPERTIES besides the basic cover prefer to add to the insurance risks extended covers against fire or natural calamity (flooding, lightning, explosions, etc.) and some additional covers like earthquake, short circuit, landslide or collapsing, malicious actions on the part of third parties, as well as insurance against robbery of movable property which slightly raises the cost of the insurance premiums.

Exemplary amounts of insurance premiums with included extended cover for Sofia city:

Insurance amount 20,000 EUR - insurance premium p.a. 75 EUR
Insurance amount 40,000 EUR - insurance premium p.a. 130 EUR
Insurance amount 75,000 EUR - insurance premium p.a. 225 EUR
Insurance amount 100,000 EUR - insurance premium p.a. 300 EUR
Insurance amount 130,000 EUR - insurance premium p.a. 400 EUR

Houses set close to Sofia are also insured very often – they are repaired and furnished properties whose price is between 40,000 and 100,000 Euros. Their average price is about 50,000 Euros and the insurance premium is about 150 EUR.

Holiday Property

Insurance premium prices in Bansko are similar to those in Sofia. We present to you some exepmlary amounts for Sunny Beach and Bourgas:

Insurance amount 60,000 EUR - insurance premium p.a. 90 EUR
Insurance amount 70,000 EUR - insurance premium p.a. 125 EUR
Insurance amount 80,000 EUR - insurance premium p.a. 150 EUR
Insurance amount 100,000 EUR - insurance premium p.a. 175 EUR

Rural Property

Most often the insurance amounts for this type of property are between 10 000 and 30 000 Euros. BULGARIAN PROPERTIES present some exeplary figures:

Insurance amount 10,000 EUR - insurance premium p.a. 50 EUR
Insurance amount 20,000 EUR - insurance premium p.a. 75 EUR
Insurance amount 30,000 EUR - insurance premium p.a. 100 EUR

One can also insure only the movable property - furniture and domestic appliances and technology.

Insurance amount 1,500 EUR - insurance premium p.a. 25 EUR
Insurance amount 3,500 EUR - insurance premium p.a. 35 EUR
Insurance amount 5,000 EUR - insurance premium p.a. 50 EUR

For cutomized advice and making insurances of various types, contact Galya Zlatanova ot +359 2 868 1188 or +359 888 880 859.

Read more:

BULGARIAN PROPERTIES Analyze Property Insurance in Bulgaria on TV2 Channel

* Please, note that all the above stated figures are just examples and they vary according to the specific property, price, location and included risks.

---
Copyright: 2009 Bulgarian Properties Ltd. All rights reserved. For further information or advice please contact us on tel: +359 2 9 11 50 or e-mail: info@bulgarianproperties.com. The use of this article by third parties is allowed only with proper quotations of the source www.BulgarianProperties.com and the Author of the article. The data in this material has been collected by the Author and Bulgarian Properties Ltd. and is presented for information purposes only. We have made every effort to ensure the accuracy of the data. However, Bulgarian Properties Ltd. cannot be held responsible for loss or damage as a result of decisions made based on this article.
© Bulgarian Properties Ltd. 2009.


TOP PUBLISHED OFFER
TOP SOLD OFFER
read more newsletters
We too are happy with service and cheerfullness of the staff at the Varna office espcially ...
My partner and I have bought a wonderful house in Manolovo through the Kazanlak office. We would ...
I bought a small house with a lovely garden North East of Kuystendijl in 2005 and had an excellent ...
Terms of Use | Privacy Policy | Cookie Policy

All photos, texts, video clips, charts and banners on our website are property of our company or of our partners and are protected by the Copyright Act of the Republic of Bulgaria. Any unauthorized use of photos, texts, videos and other materials from our website by third parties will be subject to immediate claim on the part of the copyright owners. The information on our website is with information and advertising purposes. Alhtough we have made all efforts to provide accurate information, there may be some mistakes. For full and correct information is considered only the information received at the offices of Bulgarian Properties Ltd.