28.07.2015 BBC Radio 4 about Brits living in Bulgaria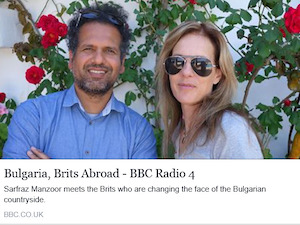 BBC Radio 4 series Brits Abroad on July 24, 2015 was dedicated to Bulgaria and how Brits are relocating to Bulgaria and changing the face of the Bulgarian countryside.

Safraz Manzoor meets with Brits living in Bulgaria to hear their stories. He speaks to the British retirees who have moved to rural villages in Bulgaria in order to have a good life on their UK pensions. They can buy a house for as little as the cost of a 'second hand car', as younger Bulgarians abandon their homes for the city lights or opportunities in the cities or other countries like Britain.

He also interviews Polina Stoykova, Managing Director of BULGARIAN PROPERTIES - the biggest real estate company in Bulgaria. She comments:'60% of the rural properties are sold to Brits. With their pensions they can afford everything they need. In the Bulgarian villages every family grows vegetables, they have chicken, so it is as quiet as fifty years ago. Time seems to have stopped. People are very glad to see that Brits are coming to villages. They are always willing to help them with everything.'

Despite the fact that life is hard for Bulgarians, they welcome the Brits, recognising the benefits they bring to village life and the local economy. Retired Brits also benefit from the reciprocal health care and when Sally Rickard had breast cancer all her treatment was free and there were no waiting lists.

In conclusion Safraz Manzoor says: 'During the making of this series I have been struck by the parallel between the migrants who come to Britain and Brits who leave for the continent. Both make the move for a better life, both relocate for the reasons of economics, love or fresh opportunities. Perhaps the most important lesson we learn from stories of the Brits abroad is that no one can really be blamed and no one should be attacked for wanting to have or make a better life.'

Listen to the full broadcast here

View our properties near Veliko Tarnovo

View all rural properties in Bulgaria


TOP PUBLISHED OFFER
TOP SOLD OFFER
read more newsletters
I have chosen BULGARIAN PROPERTIES, after I had become acquainted with the rating of the companies ...
We are very pleased with the service provided by Hristo when we were looking for an apartment to ...
Brilliant!! Orlin, and his colleages in Varna, especially Alex looked after our every need and made ...
Terms of Use | Privacy Policy | Cookie Policy

All photos, texts, video clips, charts and banners on our website are property of our company or of our partners and are protected by the Copyright Act of the Republic of Bulgaria. Any unauthorized use of photos, texts, videos and other materials from our website by third parties will be subject to immediate claim on the part of the copyright owners. The information on our website is with information and advertising purposes. Alhtough we have made all efforts to provide accurate information, there may be some mistakes. For full and correct information is considered only the information received at the offices of Bulgarian Properties Ltd.