06.11.2007 Analysis of the ski resort market, Part 1
Adrian Musgrave, BulgarianProperties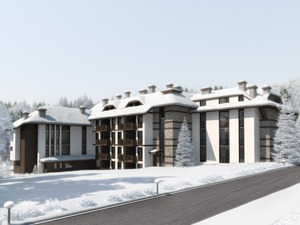 As we come towards the close of Bulgaria's first year of EU membership, we are pleased to bring you the first of a four-part series which takes an in-depth look at the property market in Bulgaria's Ski and Beach resorts for 2007, 2008 and beyond.

Following three extremely busy and dynamic years of property sales in the major Bulgarian ski resorts, 2007 has been a year of relative calm and stabilisation. The days of the quick buy-and-sell speculators flipping properties at a high profit are behind us and buyers can now look forward to more measured and sustainable investment returns over the medium to long term.

With the new season almost upon us, perhaps today's most widely reported topic about the ski resorts is that the supply of holiday and investment properties currently exceeds demand and, while this claim may be generally true, it does warrant some deeper analysis. In Bansko, for instance, the Municipality has reined in the hectic building boom of recent years by not giving out any new building permission since the summer. As we move into 2008, this will work to bring the supply-demand ratio back into balance but, in the immediate term, it also allows for a major focus on the much needed development of the resort's infrastructure.

There is also a level of over-supply in Pamporovo but this has been generated mainly by developers pre-empting the start of the massive, 255 million euro Perelik Sports Centre project, which is set to transform Pamporovo into Bulgaria's biggest and most popular ski resort. After some three years at the planning stage, the project is now underway and, as it evolves over the next five years, this will be the key driver that brings the local market back to equilibrium.

In Borovets, though, the situation is different. Here, there is actually a limited supply of properties for sale as there are few suitable building plots available. In fact, there are only some five or six apartment complexes being built in the resort, far fewer than in Bansko or Pamporovo. This shortage of supply, together with the current development of the Super Borovets project, which is just as big and just as important as the Perelik Sports Centre, accounts for the traditionally high demand and higher prices in Borovets.

So, while there is something of a glut of ski-resort properties in Bulgaria at present, this needs to be viewed in the light of the key factors at play within each of the three main resorts. What can be seen in an overall context, though, is the impact that these supply and demand variables have on prices and on the number of completed sales. We have noted the higher prices in Borovets compared with those in Bansko and Pamporovo but, across the board, prices have increased only slightly though 2007. Moreover, there is a possibility that we may even see some decreases in 2008. If this happens, though, it will be in the form of a downward adjustment of maybe 10 to 12% to offset the speculative increases that some investors, developers and agents hoped to cash in on through 2005 and 2006, rather than a reflection of today's real property value.

In terms of completed sales, volume fell in 2007 but this needs to be considered in the context of the various factors underlying buyers' purchase decisions. We can note, for example …

• The abnormally mild winter of 2006 - 2007. This affected all ski resorts across Europe and resulted in a significant reduction in the number of Bulgaria's winter tourists and visitors.

• A shift in the buying patterns of some of the more speculative British and Irish investors towards alternative property hot-spots, notably Morocco, Brazil, India, Cape Verde, Egypt and China.

• The current political and financial climate in the UK, which has made buyers feel less secure about overseas investment because they are unsure about their future

• The end of the rush to buy before Bulgaria joined the EU in January 2007

• A natural resistance on the part of buyers to the speculative, profit-taking price increases that followed the high demand levels of 2005 and 2006

In the light of these issues it would, in fact, be difficult to see how sales could have done anything but decline through the year. Probably the most interesting effect of this, though, is that supply, demand and prices are now beginning to balance again and the market is moving into its mature phase.

This article has drawn together various strands of logic with an analysis of particular local factors to present an overview of the current status of the market for ski-resort properties. In the next issue (available here), we will examine the ways in which this sector of the market is now developing and consider the key indicators for the future.

TOP PUBLISHED OFFER
TOP SOLD OFFER
read more newsletters
Earlier in the year I contacted several agents with regard to selling my apartment in Bansko. Hristo ...
I had bought a house in BG before and had no reservations about turning to BulgarianProperties.com ...
My compliments for Bogdan Tonchev, who arranged getting a very nice apartment for me in 2 days. Very ...
Terms of Use | Privacy Policy | Cookie Policy

All photos, texts, video clips, charts and banners on our website are property of our company or of our partners and are protected by the Copyright Act of the Republic of Bulgaria. Any unauthorized use of photos, texts, videos and other materials from our website by third parties will be subject to immediate claim on the part of the copyright owners. The information on our website is with information and advertising purposes. Alhtough we have made all efforts to provide accurate information, there may be some mistakes. For full and correct information is considered only the information received at the offices of Bulgarian Properties Ltd.