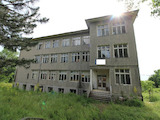 Building near Elena
INVESTMENT
PROJECT
€ 55,000 (40 €/m2)
area: 1360 m2 garden: 7440 m2
For sale - building
Near Elena Type of listing: For sale Type of property: Houses, Hotels, Leisure centres, Land, Investment land, Investment projects, Care studios, Buildings, Schools
We offer you this building with a total area of 1,360 m2. Brick walls and wooden floors are available in the property. The property is connected to electricity, communal water supply and septic tank. Some of the other available facilities that you will certainly consider ...read more
€ 70,000€ 39,000
area: 1342 m2 garden: 5240 m2
For sale - building
Near Razgrad Type of listing: For sale Type of property: Houses, Storehouses, Hotels, Leisure centres, Development land, Land, Investment land, Commercial properties, Barns, Student housing, Care studios, Buildings, Schools
We offer you this building with a total area of 1,342 m2. Wooden window frames are available in the property. The property is connected to electricity, communal water supply and communal sewage system. Some of the other available facilities that you will certainly consider ...read more
Can't find the right property? Contact us, we will help you!
Selling my property in Gorna Malina (with the excellent help of Sergey Pelovski !); it was more than ...
We arrived here early this year from France and we bought two properties here in Karavelvo,near ...
I thought zdravka marcheva was very professional in her aproach to dealing with all my issues ...