Promotional prices, discounts and free bonuses for purchasing a new build property
Have a look at our selection of newly-built complexes, which are offered for sale with discounts and better terms from developer for a limited period of time. BULGARIAN PROPERTIES offer to your attention a special selection of flats, apartments and villas in complexes under construction, for which developers/sellers offer promotional prices.
The discounted properties in promotion listed here (apartments, studios, villas, townhouses) have been carefully selected. As one of the leading real estate agencies in Bulgaria, we strive to agree for our clients the best prices, discounts, promotions and favourable terms in new developments and, in particular, in each of the following complexes.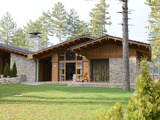 Pirin Golf & Country Club Villas


Topoffer
Promo
Exclusive villas with luxury design on 5* golf resort
Near Bansko Golf course Ian Woosnam Type of listing: For sale Type of property: Houses, Chalets, Villas
Pirin Golf & Country Club is an impressive 5-star holiday complex, located near a world class golf course, designed by Ian Woosnam. The complex covers an area of 150 hectares and is placed near Bansko, the most modern ski resort on the Balkans. Due to the natural resources and ...read more
Can't find the right property? Contact us, we will help you!
I would like to say a special thanks to Sergey and all of the Bulgarian Properties team for the ...
We have just paid a deposit on a house in Plodviv and are looking forward to going out to finalise ...
Zdravey! to all at Elhovo office. Many thanks for your help and patience and a big thank you must go ...