FREE viewing trip to Bulgaria
FREE viewing trip to Bulgaria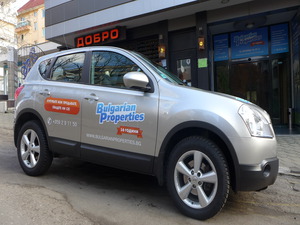 BULGARIAN PROPERTIES invites you on a free viewing trip!
You are welcome to take advantage of our
unique tour package for property viewings & entertainment
in the most popular cities and resorts in Bulgaria.
The package has been specially tailored to meet the needs of our foreign property buyers. Thus, you can relax and enjoy your stay in sunny Bulgaria and choose the most suitable property.
You can choose from one of the following destinations for the trip:
• Sunny Beach
• Burgas and the Southern Black Sea coast
• Varna and the Northern Black Sea coast
• Bansko
• Sofia
Allow yourself a 4-day trip at a time convenient for you and take advantage of this great opportunity to visit Bulgaria!
This is a unique combination for travelling, entertainment and purchase of property abroad!
The package includes:
• A return airplane ticket to Bulgaria (from the UK - London and some other cities)
• 4 days (3 nights) in a 3-star or 4-star hotel
• Dinner at a Bulgarian restaurant
• Property viewings: a wide range of new-build and resale properties for every budget and taste. The viewing trip is carried out by our real estate agents. The list of properties to view will be made according to your personal requirements.
• Access to the best promotions, ability to negotiate better terms and get the best prices possible.
• Consultation with our experts on all issues including tax and legal aspects, best purchase practices and others.
• Visits to local cultural and historical sights
• Shopping and leisure
• Introduction to the specifics of the real estate market and possibility for long-term cooperation with BULGARIAN PROPERTIES
Travel Dates:
at your choice (out of available options)
Cost of the tour:
When booking the tour package you will need to pay:
420 Euros per person (accommodation in a 3-star hotel)
or
510 Euros per person (accommodation in a 4 star hotel)
The trip is FREE for those who purchase a property with BULGARIAN PROPERTIES. The cost of the inspection tour is restored when reserving a property with us.
Read the
terms and conditions of the FREE tour in Bulgaria
Send us an enquiry about the details trip schedule
Book a our package viewing trip by filling in this form:
I would just like to say how very pleased i was with the services that the VT office provided. ...
Our most sincere thanks to Miroslav Karakolev, regional manager at office in Stara Zagora, which ...
We bought our house a few months ago and now have our deeds. Cant wait to go back to Sofia and see ...