Mobile App of BULGARIAN PROPERTIES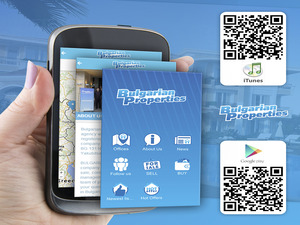 BULGARIAN PROPERTIES has launched a mobile app for Android and iOS, which is available for a free download from Google Play and iTunes.
More and more online users are browsing through mobile devices. In order to make your property search with tablets and smartphones easier, we have launched this mobile app for the most popular mobile platforms.
The official app can be downloaded from here:
For Android in Google Play
For iPhone and iPad in iTunes
Our app features:
• Fast and easy connection with our offices. Even offline, you can easily call one of our offices.
• When you choose an office of BULGARIAN PROPERTIES, you can get directions on the map how to reach the office from your current location.
• Easy access to the newest and hot offers.
• Stay in touch with us in the social networks.
• List a property for sale with us.
• Stay updated and see the latest news about the Bulgarian real estate market.
BULGARIAN PROPERTIES - the best online real estate services in Bulgaria!
Read more:
About us
Our mission
Special thanks to my friend Sergey he provided me with a top class service I would highly recommend ...
We would recommend using Bulgarian Properties to buy a property. The service they provide is ...
We would like to thank Bulgarian Properties and in particular Iva Atanasova for the quick sale of ...