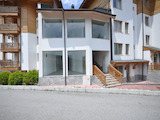 Commercial Space For Rent in Bansko
FOR RENT
Can't find the right property? Contact us, we will help you!
I am highly appreciate the complate cooperation & help & support offered to me by the Bulgarian ...
We would just like to say a huge big Thankyou to Paulli and Riffie in the Karlovo office. They were ...
We have just returned from our second visit to Elhova where we compleated our dream of purchasing ...