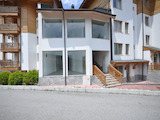 Commercial Space For Rent in Bansko
FOR RENT
Can't find the right property? Contact us, we will help you!
Dear Manager Bulgarian Properties Sofia I wish to write this with great pleasure that I ...
We have just returned from our second visit to Elhova where we compleated our dream of purchasing ...
hi to you all in varna thanks for all your help while we were there tell krasimere and joanne we ...