€ 119,000 (2 €/m2)
area: 50000 m2
Wonderful dam with adjacent farmland
Near Plovdiv Type of listing: For sale Type of property: Business, Other properties, Lakes
We offer to your attention a dam with adjacent agricultural land with a total area of 50 000 sq.m. The dam is located in the village of Plovdiv. The area offers clean mountain air and beautiful views. Its meadows are suitable for outings and picnics. Very suitable for water ...read more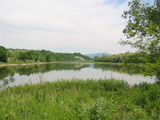 Private dam with land near Veliko Tarnovo
INVESTMENT
PROJECT
€ 510,000€ 280,000 (3 €/m2)
area: 110000 m2 garden: 170000 m2
Investment offer on asphalt road
Near Veliko Tarnovo Type of listing: For sale Type of property: Farms, Business, Development projects, Agricultural land, Forests, Land, Investment land, Investment projects, Other properties, Campsites, Lakes, Investment properties
Unique investment proposition! The "Hmela" reservoir and land with a size of 157 309 sq.m plus 20 072 sq.m. under the wall for support facilities, is now for sale. The resevoir is located just 7 kilometers from the medieval capital of Bulgaria - Veliko Tarnovo. The road from ...read more
Can't find the right property? Contact us, we will help you!
We have just returned from spending 1 month in Bulgaria. Not the best time of year to go, ...
I have got 5 stars service by Silvia Gocheva. I was looking an apartment in Varna and Silvia has ...
I recently bought a house in Bansko to spent my winter vacation in this Magnificent Place. Although ...