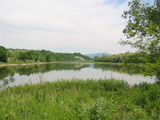 Private dam with land near Veliko Tarnovo
INVESTMENT
PROJECT
€ 510,000€ 280,000 (3 €/m2)
area: 110000 m2 garden: 170000 m2
Investment offer on asphalt road
Near Veliko Tarnovo Type of listing: For sale Type of property: Farms, Business, Development projects, Agricultural land, Forests, Land, Investment land, Investment projects, Other properties, Campsites, Lakes, Investment properties
Unique investment proposition! The "Hmela" reservoir and land with a size of 157 309 sq.m plus 20 072 sq.m. under the wall for support facilities, is now for sale. The resevoir is located just 7 kilometers from the medieval capital of Bulgaria - Veliko Tarnovo. The road from ...read more
Can't find the right property? Contact us, we will help you!
I would like to express my sincere gratitude and to thank from the bottom of my heart towerds ...
I have chosen from many companies BULGARIAN PROPERTIES mainly because of comprehensive and detailed ...
Bulgarian Properties have just sold our apartment in Bansko. The sale went through quickly and ...