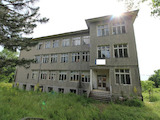 Building near Veliko Tarnovo
INVESTMENT
PROJECT
€ 59,000 (43 €/m2)
area: 1360 m2 garden: 20000 m2
For sale - building
Near Veliko Tarnovo Type of listing: For sale Type of property: Houses, Hotels, Leisure centres, Land, Investment land, Investment projects, Care studios, Buildings, Schools
We offer you this building with a total area of 1,360 m2. Brick walls and wooden floors are available in the property. The property is connected to electricity, communal water supply and septic tank. Some of the other available facilities that you will certainly consider ...read more
€ 70,000
area: 1342 m2 garden: 5240 m2
For sale - building
Near Rousse Type of listing: For sale Type of property: Houses, Storehouses, Hotels, Leisure centres, Development land, Land, Investment land, Commercial properties, Barns, Student housing, Care studios, Buildings, Schools
We offer you this building with a total area of 1,342 m2. Wooden window frames are available in the property. The property is connected to electricity, communal water supply and communal sewage system. Some of the other available facilities that you will certainly consider ...read more
Can't find the right property? Contact us, we will help you!
I recently purchased a property via the Varna branch of Bulgarian Properties; I very, very much ...
I am Romanian and I bought a property on Rabisha Lake near Vidin. I am very happy I worked with ...
Dear Manager Bulgarian Properties Sofia I wish to write this with great pleasure that I ...