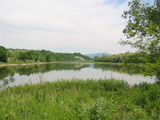 Private dam with land near Veliko Tarnovo
INVESTMENT
PROJECT
€ 510,000€ 280,000 (3 €/m2)
area: 110000 m2 garden: 170000 m2
Investment offer on asphalt road
Near Veliko Tarnovo Type of listing: For sale Type of property: Farms, Business, Development projects, Agricultural land, Forests, Land, Investment land, Investment projects, Other properties, Campsites, Lakes, Investment properties
Unique investment proposition! The "Hmela" reservoir and land with a size of 157 309 sq.m plus 20 072 sq.m. under the wall for support facilities, is now for sale. The resevoir is located just 7 kilometers from the medieval capital of Bulgaria - Veliko Tarnovo. The road from ...read more
Can't find the right property? Contact us, we will help you!
Thanks to the help of Sergey from Bulgarian Properties, we have managed to successfully sell our ...
I sincerely thank for your hard work, understanding and for your help! I wish you much success in ...
I would just like to say how very pleased i was with the services that the VT office provided. ...