Do you have a property for sale near Sveti Vlas? Sell it with us!
2-bedroom apartments for sale and rent near Sveti Vlas
As a leading company on the Bulgarian real estate market BULGARIAN PROPERTIES offer a wide choice of 2-bedroom apartments for rent and sale in Bulgaria. Moreover, we do everything possible to offer our clients numerous offers for 2-bedroom apartments near Sveti Vlas. This way you can choose the type of property that suits you best – house, villa, plot of land, commercial areas, etc. – set close to Sveti Vlas.

On this page you can view all our offers of 2-bedroom apartments located near Sveti Vlas. Each offer contains detailed information and photos. In the links below you will also find detailed information about all other types of properties we offer near Sveti Vlas.

If you wish to receive more information please contact your sales agent whose details you will find under the photos of the property. You can also receive advice whether the 2-bedroom apartments and its location will suit your needs and whether if you can rent the property out or resell it at a good price.

We hope that among our offers of 2-bedroom apartments for sale and rent near Sveti Vlas you will find the property you are looking for. If you have any questions, please contact us.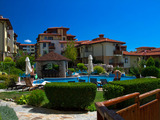 Page Title
WATER
FRONT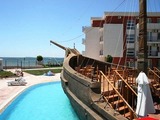 Page Title
WATER
FRONT

€ 111,000 (1,181 €/m2)
area: 94 m2
Top floor apartment with amazing view
Near Sveti Vlas Type of listing: For sale Type of property: 2-bedroom apartments
Privilege Fort Club is part of FORT NOKS GRAND RESORT. The complex is situated on the front beach line between the resorts of Eleni (the Deer) and Sunny Beach, on the sea shore, in a picturesque and peaceful southern bay with the popular beach called Robinson. The complex starts ...read more
Can't find the right property? Contact us, we will help you!
True professionals within their field. I have dealt with others to my disappointment and cost. The ...
We too are happy with service and cheerfullness of the staff at the Varna office espcially ...
I would like to thank both Sergey Pelovsky and Lubomir Todorov. Sergey for his great efficiency in ...